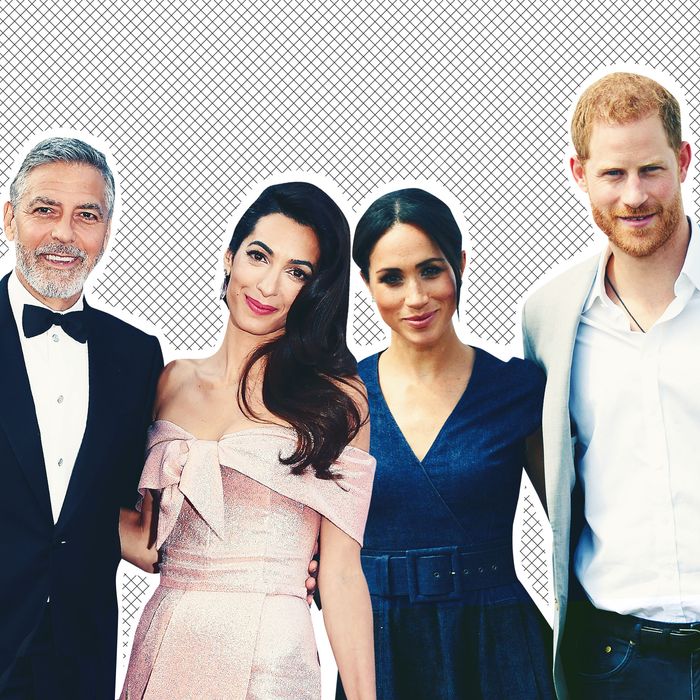 Like many of us, it turns out Meghan Markle and Prince Harry have made some time to visit friends this summer. How nice and relatable. But unlike many of us, the royal couple's friends are George and Amal Clooney — and they were reportedly all hanging out together in Italy last week.
Per the Daily Mail, the Italian magazine Chi reports Meghan and Prince Harry arrived in Lake Como last Thursday on a private flight to stay with the Clooneys for a few days at their villa. While there, Meghan reportedly helped look after the Clooneys' twins — Ella and Alexander — while Prince Harry and George played basketball with friends (can you even imagine?). The visit also reportedly entailed a "gala dinner" for 15 guests, and eventually, Meghan and Prince Harry flew out on Sunday night.
The Clooneys famously attended the royal wedding back in May (and George even served his beloved Casamigos tequila at the private wedding reception). It's also been reported that Meghan and Amal have become close since the former actress moved across the pond. So the fact that the royal couple paid the Clooneys a visit isn't entirely surprising.
However, as the inimitable Lainey Lui points out, the revelation does go against the recent rumors that Meghan is planning a solo visit to Toronto. In fact, Lainey notes there are currently no plans for Meghan to visit Canada or her hometown of Los Angeles in the works. But Meghan and Prince Harry are likely visiting his grandma (Queen Elizabeth) at one of her homes (Balmoral Estate) this summer — and also have plans to see Hamilton — so at least they have that to look forward to.