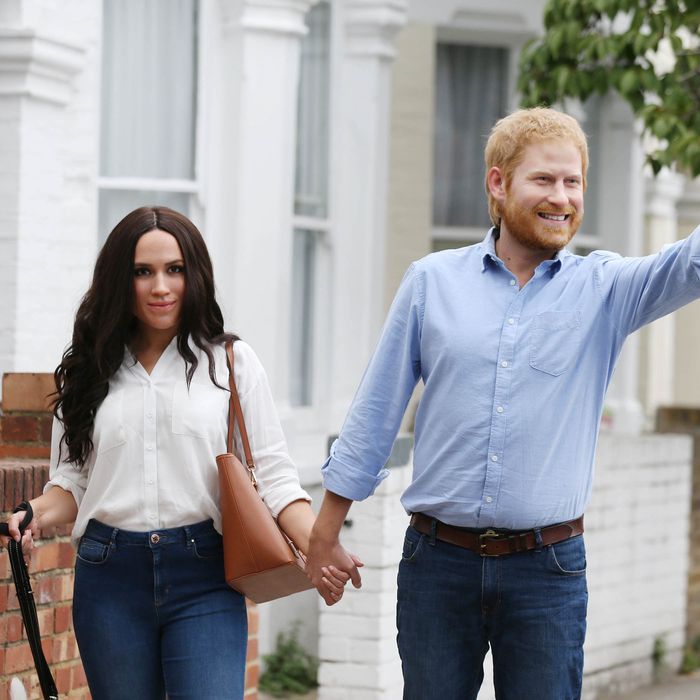 Ahhhhh.
Photo: PA Images/INSTARimages.com
Do you ever worry that you will be murdered at the hands of wax figures of Meghan Markle and Prince Harry that have mysteriously come to life? No? Well, I had never really considered that possibility before either — until now.
Ever since I came across photos of real-life, living and breathing wax figures of the royal couple walking around London, I have become convinced this is how I will die. According to People, the demonic figures are actually actors who have real bodies, but who I guess are simply wearing the heads of the Meghan and Prince Harry's Madame Tussaud's wax figures (which were unveiled in May, just before their royal wedding).
Straight out of the plot of Hereditary (which truthfully I did not see but I assume this is what the movie is about), these fake-headed people were recently spotted out and about in London, presumably on a stroll to drum up publicity, but also maybe to ruin my life and haunt my nightmares forever. Case in point, here they are with a dog I can't stop worrying about:
And then they also stopped by a pub, which is supposed to be a happy place, not the place where I am now certain I will be killed by fake humans:
If and when I suddenly go missing, please send these pics to the police.