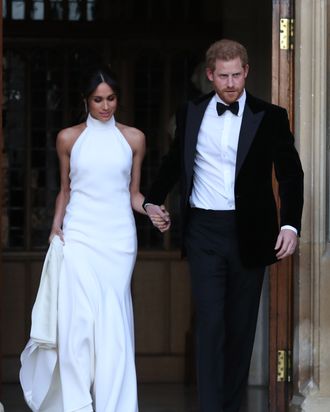 Meghan Markle and Prince Harry.
Photo: WPA Pool/Getty Images
After wearing a powerful Givenchy dress during her royal wedding to Prince Harry in May, the newly minted duchess of Sussex — Meghan Markle, of course — switched into a different dress for her private evening reception: a stunning halter gown by Stella McCartney. Now, the designer is opening up about the dress in a new interview.
Speaking with Elle UK, McCartney (who is rock royalty) said Meghan (who is now British royalty) asked to work with her. "I have had moments in my career where I've caught up with Gwyneth or Madonna and was like, 'Can I dress you for that?,'" McCartney said. "But this time around, they were drawn to me. [Meghan] approached me and we worked on other things."
McCartney explained that Meghan had already worn "other pieces of mine" — including the black coat the former Suits star wore during a royal visit to Wales — and that the pair had sparked up a friendship from that. "And then she asked me to do her second wedding dress," the designer said. "I was honored and I still am."
The designer continued, "I think Meghan chose me for reasons other than just a beautiful dress — plenty of people can do that. She is not a difficult client to make look beautiful." She added that both Amal Clooney and Oprah also called on her to design dresses for the royal wedding. "… I think, obviously I am a British designer, but I think being a woman and being a women's woman played a part. They are all women's women. It's a big deal," McCartney said.
Check out the full interview here.