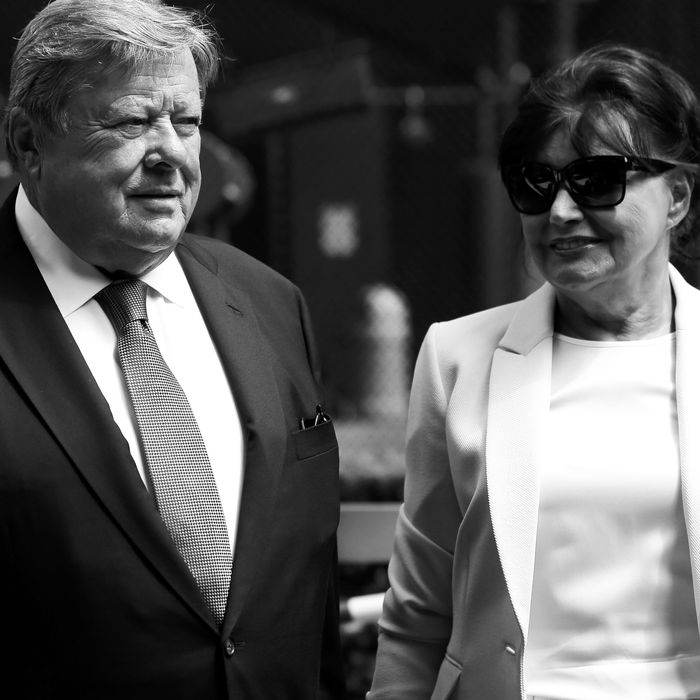 Viktor and Amalija Knavs.
Photo: Seth Wenig/AP/REX/Shutterstock
Just days after internal documents revealed that the Trump administration is plotting a method to deny citizenship to documented immigrants, First Lady Melania Trump's parents became naturalized U.S. citizens, seemingly through a process that Donald Trump has sought to end — except, of course, when it would benefit his family.
According to Politico, Melania's parents — Slovenian citizens Viktor and Amalija Knavs, who have been living in the U.S. as legal permanent residents — took oaths of citizenship in New York City earlier today. It's unclear how exactly the husband and wife became naturalized, though the Knavs' lawyer suggested to the New York Times that they obtained citizenship though family-based immigration, a legal process that allows citizens and legal permanent residents to sponsor family members.
In the past, Trump has criticized this process as "chain migration"; in November 2017 he declared that it "must end now" on Twitter. "Some people come in, and they bring their whole family with them, who can be truly evil," he wrote. "NOT ACCEPTABLE!"
In a statement to the Washington Post, immigration attorney David Leopold slammed the the apparent ease with which Melania's parents were able to gain citizenship, while the Trump administration won't even let victims of domestic and gang violence seek asylum in the states.
"This is the most anti-immigration administration probably in history of the country, except when it comes to this family, and the hypocrisy is just stunning," he told the Post. "He and his administration are on a crusade to rid the country of immigrants, particularly immigrants of color. What can you say when the First Lady and her family have such an easy time?"