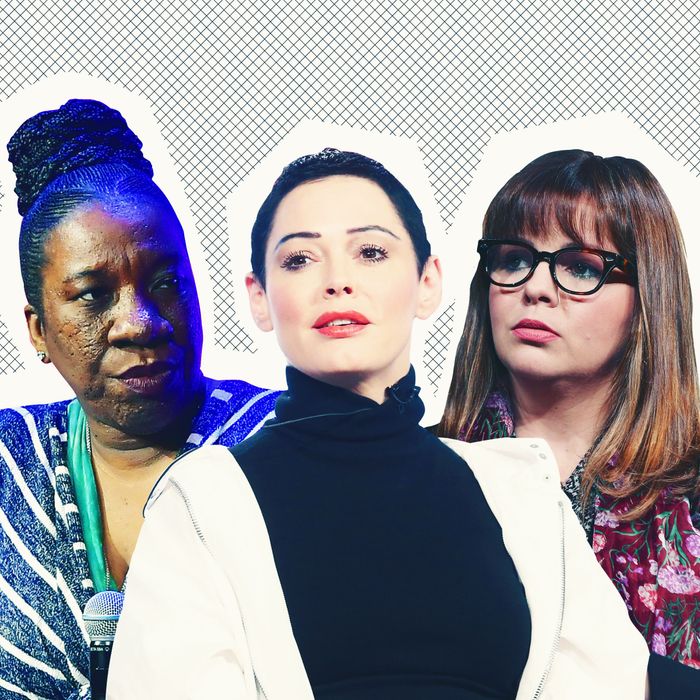 Tarana Burke, Rose McGowan, Amber Tamblyn.
Photo: Getty Images
On Sunday night, the New York Times reported that actress Asia Argento, a leader of the #MeToo movement who publicly accused disgraced media mogul Harvey Weinstein of rape nearly a year ago, recently made a deal with an accuser of her own: Jimmy Bennett, an actor who says she assaulted him in 2013, when he was 17 years old. Since Argento has been one of the most visible faces of #MeToo in recent months, many feminists struggled to make sense of what the accusations could mean for the movement.
Among those grappling with the implications of the Argento allegations were other prominent women in the movement, including activist Tarana Burke, who first started the campaign over a decade ago, and other Weinstein accusers and actresses who've been outspoken about assault and harassment in their industry. As debates and discourse raged around the allegations — and as Argento went on to publicly deny them, and Bennett went on to release a subsequent statement to the Times challenging her denial — many of the movement's leaders took to Twitter to express their sadness, but also to explicitly assert that the Argento reports should not undermine #MeToo. Here is what they've said:
Tarana Burke
In a series of tweets the day after Bennett's allegations were first made public, Tarana Burke stressed that when thinking of sexual violence, society must focus on the "power and privilege" that allow perpetrators to cause harm. We must "get really comfortable with the uncomfortable reality that there is no one way to be a perpetrator," she tweeted, and then declared that it is up to us where the movement goes from here.
While Burke has not yet explicitly responded to Argento's statement, on Wednesday, she retweeted one of her old tweets in which she warned against lionizing leaders.
Amber Tamblyn
Just weeks before the Weinstein reports dropped, actress Amber Tamblyn — who has been outspoken about her experiences with sexual violence for years — wrote an open letter to actor and proud conservative James Woods, accusing him of trying to pick her up when she was underage. In response to the Argento reports, she stressed the importance of recognizing that men are survivors of sexual assault by mentioning her new book, in which a female rapist attacks men; she also slammed a tweet that suggested that the integrity of #MeToo had been compromised.
"You don't get to destroy two decades worth of the work Tarana Burke has done for the #metooMVMT because of this woman's actions," she wrote. "Don't you even dare."
Rose McGowan
Rose McGowan, who publicly accused Weinstein of rape in the first bombshell New York Times report, was one of the first to respond to the allegations against Argento. Last November, she shared a meal with the Italian actress, her now-deceased boyfriend Anthony Bourdain, and fellow Weinstein accuser Annabella Sciorra, which Argento marked by posting a photo with McGowan, captioned "my sister."
In the early morning, after the Times report about Argento was published, McGowan tweeted that her "heart is broken," but hesitated to jump to any conclusions.
"None of us know the truth of the situation and I'm sure more will be revealed," she wrote. "Be gentle."
Following Argento's denial, though, McGowan appeared to walk back on her initial stance, tweeting, "Oh for fuck's sake I'm not defending."
Rosanna Arquette
In the second major Weinstein report, published in The New Yorker, actress Rosanna Arquette accused him of sexually assaulting her in his hotel room in the early '90s. On Monday morning, she retweeted nearly all of Burke's tweets about Argento, and also sent a few of her own.
"Trauma begets trauma," Arquette wrote in response to Burke, and stressed that the allegations against Argento don't negate what Weinstein allegedly did to her.
On Wednesday, she typed up some of her previous tweets into one cohesive statement on her Notes app, which she screenshotted, tweeted, and pinned to her Twitter.
Mira Sorvino
Actress Mira Sorvino has been vocal about her numerous experiences of sexual violence in Hollywood, and on Tuesday evening (after Argento had issued her statement), she took to Twitter to express how "heartsick" she was over the allegations.
"Time will clarify things and perhaps she will be exonerated, but if true, there is no lens that makes it better," she wrote. "Child sexual assault is a heinous crime and is against all that I and the #MeToo movement stands for. I remain dedicated to fight for all victims and change the culture that encourages abuse of power in sexual relationships."
Alyssa Milano
In a Thursday interview with Good Morning America, Milano, who was one of the first celebrities to popularize the phrase #MeToo, said she doesn't have "any fears" about the progress the movement has made and will continue to make.
"People who have been abused can also be abusers," she said of the allegations against Argento. "And that's a sad fact … To me, what that does is enables us to identify the issues, the problems, and to then discuss them and get them out in the open."