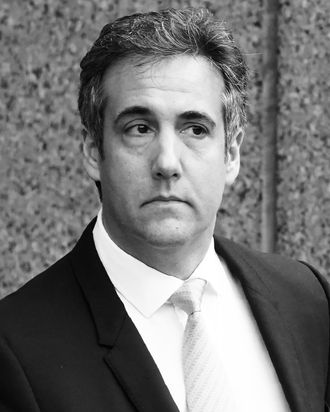 Michael Cohen.
Photo: Don Emmert/AFP/Getty Images
Just hours after pleading guilty to eight counts of criminal charges involving fraud and campaign-financing — which include paying two women hush money to hide their alleged affairs with the president — Michael Cohen, Trump's former lawyer, was spotted dining out at fancy Upper East Side restaurant Le Bilboquet, according to "Page Six."
Despite the public shame he's suffered since the indictment, including by our very own president and Cohen's very own former boss, Cohen "honestly seemed pretty relaxed, surprisingly," one Le Bilboquet diner said. Apparently he spent much of his dinner typing long messages on his phone, we presume updating his group chat on what's going on and/or texting his therapist.
"He wasn't trying to hide," one onlooker added. "He was right there at the front, right when you walk in."
This isn't the first time Cohen has attempted to let loose in the face of numerous potential felonies; in April, after being raided by the FBI, he skipped court to smoke cigars on a bench with some friends. And on Tuesday, when questioned by the judge about his state of mind and consumption of drugs or alcohol, he said, "Last night at dinner I had a glass of Glenlivet 12 on the rocks."
Who hasn't tried to soothe their guilty soul with a glass of whiskey, a nice dinner, and some hush money?