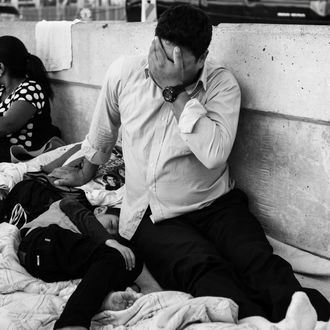 Photo: Tamir Kalifa/Getty Images
A 41-year-old Honduran woman who was raped and robbed in her home country wanted a better life for her and her 9-year-old daughter; a Guatemalan woman fled her home with her 17-year-old daughter after a gang killed her husband, menaced her for nine years, and finally threatened to kill her; another woman from Central America wanted to escape her abusive husband. All testified before a government court, and all were told their fears were not "credible" and denied asylum.
Under a new Trump administration policy that severely restricts who can qualify for asylum, people who fear for their lives are being turned away from the border at alarming rates. On Tuesday, the ACLU announced that it's suing the U.S. government, arguing that this recent "campaign to eviscerate our asylum laws" is illegal, and that it "betrays our values and flouts our laws."
Under the administration's new guidance, issued by Attorney General Jeff Sessions on June 13, victims of "private violence" — which includes people who have faced domestic abuse and gang violence — do not qualify for asylum in the U.S. unless they can prove that their government "condoned the private actions or demonstrated an inability to protect the victims." They also must prove "credible fear" of returning home to a Department of Homeland Security asylum officer.
At the time of Sessions's announcement, it was estimated that the new decision would invalidate tens of thousands of pending cases. Its effects are already apparent: According to data from U.S. Citizenship and Immigration Services, officers denied approximately 13 percent of asylum cases in June, compared to 8 percent in May.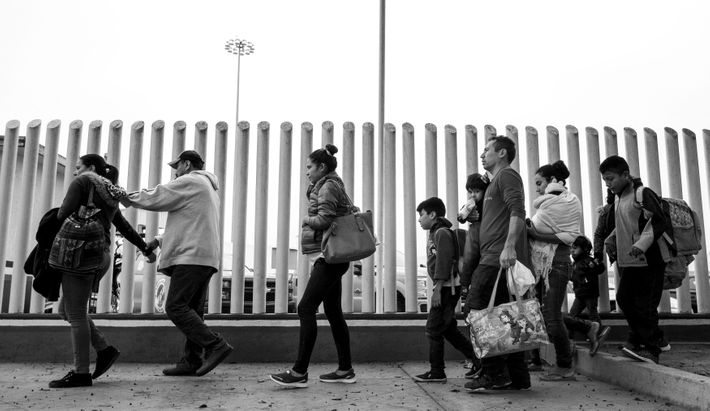 The ACLU's lawsuit was filed on behalf of 12 parents and children, all of whom face severe threats of violence in their home countries. The lead plaintiff is a Guatemalan woman, referred to by the pseudonym Grace, who claims that her former partner repeatedly raped her, beat her daughter until she miscarried, and stole the title to their house; when she called the local police, she says they did nothing. As of now, Grace is being detained in Texas and awaits deportation.
Other plaintiffs include a Salvadoran woman whose husband allegedly tried to kill her; a Honduran woman who says she came to the U.S. fleeing gang members who brutally beat her until she could no longer walk and killed her father-in-law; and an orphaned Salvadoran teenager who left her home country after her mother died and a gang moved into her house.
As Daily Intelligencer reports, Central American families who seek asylum in the U.S. must travel many hundreds of miles through the desert, dodging rapists, thieves, and homicidal gangs along the way — the journey is not easy, though it's worth it, given the violence many face in their home countries. And while the Trump administration frequently paints migrants as perpetrators of crime, those who seek asylum are simply looking for a better life. Furthermore, native-born Americans commit violent crimes at much higher rates than immigrants, documented or undocumented.
The ACLU nods to this in their complaint, writing that "without an injunction, Plaintiffs and thousands of other immigrants like them desperately seeking safety will be unlawfully deported to places where they fear they will be raped, kidnapped, beaten, and killed."