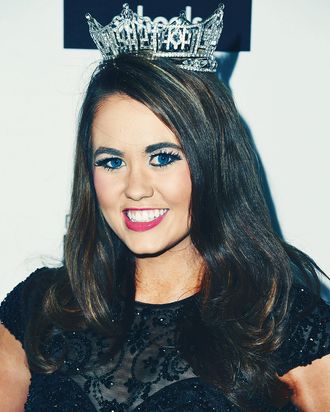 Cara Mund.
Photo: Jon Kopaloff/Getty Images
When Gretchen Carlson, a former Fox journalist who accused former Fox News CEO Roger Ailes of sexual harassment, took over as chairwoman of the Miss America Organization, there was a glimmer of hope that she would haul the organization into the 20th century (yes, 20th). But according to reigning Miss America Cara Mund, Carlson and CEO Regina Hopper have been "systemically silencing" her. Who would have thought that a beauty pageant operating in 2018 would still have issues?
Mund wrote a letter to former Miss Americas on Friday which was published on philly.com. Mund, who was crowned Miss America before the new leadership took over after a leaked email scandal racked the pageant, asked the former Miss Americas to lend their support. She wrote:
Let me be blunt: I strongly believe that my voice is not heard nor wanted by our current leadership; nor do they have any interest in knowing who I am and how my experiences relate to positioning the organization for the future.




Our chair and CEO have systematically silenced me, reduced me, marginalized me, and essentially erased me in my role as Miss America in subtle and not-so-subtle ways on a daily basis. After a while, the patterns have clearly emerged, and the sheer accumulation of the disrespect, passive-aggressive behavior, belittlement, and outright exclusion has taken a serious toll."
The message was that "there will only be one Miss America at a time," and it was Carlson. In addition to claiming she had been excluded from interviews and meetings, Mund also said that she was required to bring up three things in every apperance:
1. Miss America is relevant.
2. Gretchen Carlson, a former Miss America, started the #MeToo movement (the #MeToo movement actually started in 1997 by activist Tarana Burke).
3. Gretchen Carlson went to Stanford. Mund could also mention that she went to Brown.
But Mund is a loyal Miss America. She ended her letter by writing, "Miss America is fragile right now. She needs all of us if she is going to survive." So far, the Miss America Organization has not commented on Mund's allegations. The 2019 Miss America pageant will be held in 23 days and a new one will be crowned. So far, Carlson is not officially registered to compete.