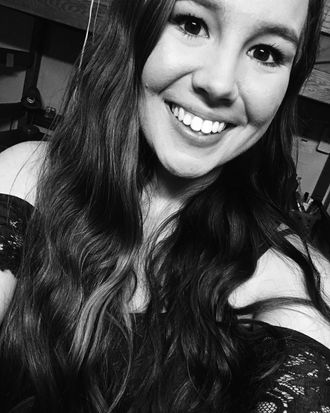 Mollie Tibbetts.
Photo: @motibbs/Instagram
Twenty-year-old University of Iowa* student Mollie Tibbetts first went missing in late July, sparking a monthlong search that garnered national attention. On Tuesday, police announced that they had discovered her body and charged a man with her murder: 24-year-old Cristhian Bahena Rivera.
Rivera is an undocumented immigrant from Mexico who's been living in the United States for at least the past four years. His immigration status immediately prompted many to use Tibbetts's murder as an opportunity to push their own anti-immigration agendas. President Trump, for instance, brought up the case during a Tuesday night rally, while the official White House account tweeted about it on Wednesday afternoon.
But some of Tibbetts's family members have already come forward to decry the xenophobia. According to local Iowa station KWWL, aunt Billie Jo Calderwood posted the following public statement to her Facebook:



Please remember, Evil comes in EVERY color. Our family has been blessed to be surrounded by love, friendship and support throughout this entire ordeal by friends from all different nations and races. From the bottom of our hearts, thank you.
She also shared the following post from a woman named Kasie Schultz Taylor:
What happened to Mollie was an awful, heinous act. But please do not compound the atrocity of what happened to her by adding racism and hate to the equation. Everyone joined together supporting her family, providing food & drink to search parties & agents, hung posters, searched fields, worked TOGETHER to make #FindMollieTibbetts #findingmollietibbetts #bringmolliehome go viral! Her story was shared around the world! Do not turn #molliesmovement into something ugly. Anyone that knew Mollie knows she wouldn't want that. Respect each other, support each other but most importantly BE KIND!
Over on Twitter, a woman named Sam Lucas who says she's Tibbetts's second cousin slammed conservative commentator Candace Owens in particular. "Leftists boycotted, screamed, and cried when illegal immigrants were temporarily separated from from their parents," Owens wrote. " What will they do for Mollie Tibbetts? What did they do for Kate Steinle? They will NEVER see their parents again."
Lucas responded via Twitter:
Plus, as this Vox article details: Immigrants are actually less likely to commit crimes than native-born Americans.
*This article has been updated to state that Mollie Tibbetts went to University of Iowa, not Iowa College.