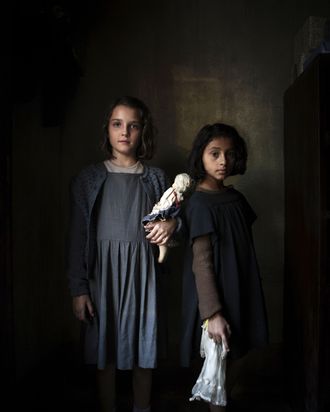 My Brilliant Friend.
Photo: Eduardo Castaldo/HBO
Nearly a year-and-a-half after HBO picked up the Italian TV adaptation of Elena Ferrante's best-selling Neapolitan novels, the network has released its first official teaser for My Brilliant Friend, the first of a four-part series following the intertwined lives of characters Elena and Lila.
The two-minute-long teaser, which manages to be simultaneously dark and stirring, starts off set in 1950s Naples, when the friendship between young Elena (Elisa Del Genio) and Lila (Ludovica Nasti) is just budding. By the end of the teaser, though, the two girls have matured into teenagers who are coming of age in a culturally repressive, working-class neighborhood. As their lives evolve, so does their friendship.
My Brilliant Friend, which is one of four parts, will feature eight episodes that cover the first of the Neapolitan novels. The three remaining novels in the series — The Story of a New Name, Those Who Leave and Those Who Stay, and The Story of the Lost Child — will each get their own eight-episode part, which altogether will depict Elena and Lila's five decades of friendship.
Watch the stunning teaser below.