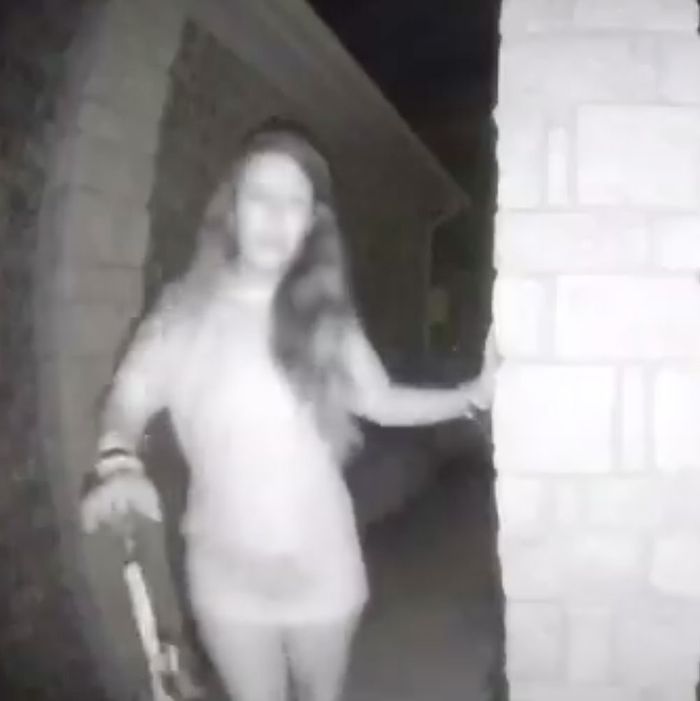 Photo: Facebook/Montgomery County Sheriff's Office
Texas police say they have found the woman from last week's haunting doorbell video, and that she was likely a victim of domestic violence.
On Sunday, the Montgomery County Sheriff's Office shared security camera footage of the woman in an attempt to help identify her. The grainy, black-and-white video shows her walking up and repeatedly ringing the doorbell of a Sunrise Ranch home at around 3:20 a.m. on August 24, barefoot, partially clothed, and in what appears to be broken wrist restraints. When the homeowners came down, the woman was gone, but neighbors say she rang the doorbells of other homes in the area, too.
Initially, police were unable to identify her, and she didn't match the descriptions of any missing persons. But on Wednesday morning, deputies were dispatched to a nearby home after a man called threatening to commit suicide. When they arrived, the 48-year-old was already dead of a self-inflicted gunshot wound. In his suicide note, he referenced his girlfriend, who investigators were able to confirm was the woman in the video. In a statement on Facebook, Montgomery County Lieutenant Scott Spencer wrote:
"The deceased's girlfriend a 32 year old white female, who was not on scene when deputies arrived, is confirmed to be the female in the doorbell ring video. Due to the female's status as a family violence victim, the female's identity can not be released at this time. The female is confirmed to be safe and with family. The investigation will continue."