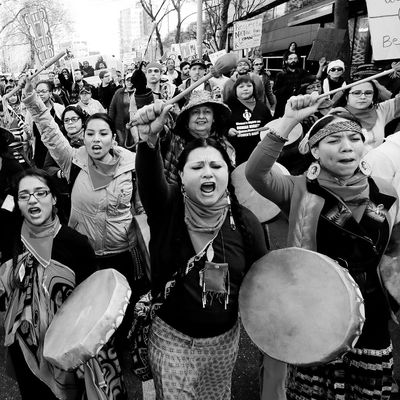 Photo: Elaine Thompson/AP/REX/Shutterstock
In a damning new report from the Urban Indian Health Institute and the Centers for Disease Control and Prevention, nearly all of the Seattle-based American Indian and Alaska Native women who were surveyed say that they have been raped or coerced into sex at least once in their lifetime.
This survey is believed to be one of the first to examine the experience of Native women in an urban setting instead of on reservations, which makes its findings significant — and that much more revealing, seeing that 71 percent of Native people live in city settings. In May 2016, a disturbing study by the Department of Justice revealed that out of the 2,000-plus Native American and Alaskan Native women surveyed (who lived both on and outside of reservations), 56 percent had experienced sexual assault and rape; the report blamed the high rate of sexual violence on a "flawed tribal court structure, little local law enforcement, and a lack of funding."
But it appears that even in urban settings, Native women are just as likely — if not more likely — to face violence of a sexual nature. Of the 148 women surveyed, 94 percent said they had been raped or forced to have sex; 86 percent reported that they suffered from historical trauma (a term that refers to the concept that trauma from colonization and historical oppression is passed down from generation to generation); and 69 percent claimed they experienced street harassment. According to the survey, nearly 54 percent of the surveyed women lacked permanent housing — a factor that increases the likelihood that one will experience sexual assault.
In an interview with the Seattle Times, indigenous womens' rights advocate Susan Balbas of the Na'ah Illahee Fund said that Native groups tend to stay mum surrounding violence against women in the community out of fear of how outsiders will characterize indigenous groups. However, she believes it's time for the community to publicly address the high rate of abuse, as well as homelessness.
"It's acknowledging the violence in the community but really developing a critical analysis about what the causes are," Balbas told the Times. "It's the legacies, the ongoing legacies of colonization and policies that have affected tribal communities, intentional policies that have hurt and damaged Native communities."