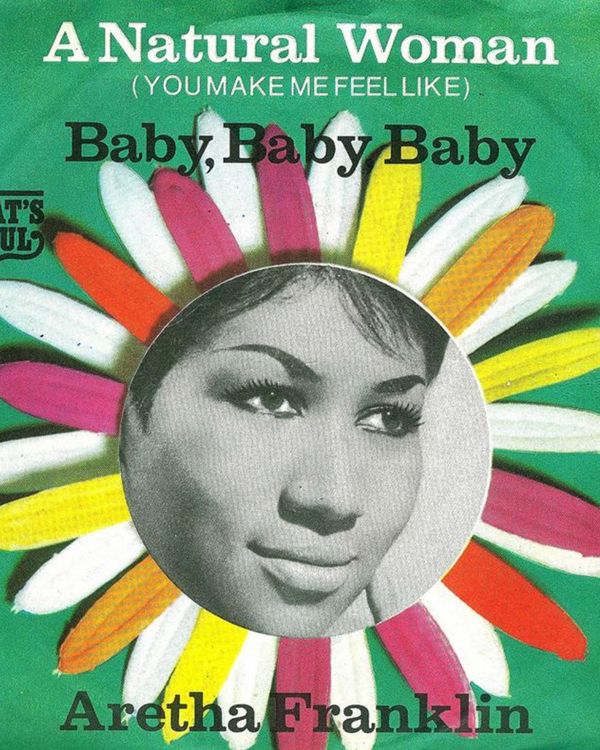 Photo: Courtesy of Atlantic Records
Remember that Clairol commercial from 1995? If you were of any TV-watching age you must. Debra Messing gives herself a dye job using a package of Clairol Natural Instincts and "(You Make Me Feel Like) a Natural Woman" is her theme song. She starts out timidly singing the opening lines of the song in the shower, but by the end, when the song reaches its familiar crescendo (and her hair is back to shiny, bouncy glory), she's dancing in a Risky Business uniform, singing about her womanhood in full eyes-closed rapture.
It's not Aretha Franklin's version of the song — I don't even think it's Carole King's 1971 Tapestry version — it's some 1995 singer doing a thin rendition with Messing warbling along, but it doesn't matter: It's impossible not to associate the song with Franklin. "A Natural Woman" is one of those songs that provided aural shorthand for moments of female transformation in pop culture — a song to indicate that a character on a show, or in a movie, or in a commercial, or in our brains is on some sort of journey toward full-on "I am woman hear me roar" empowerment. Amber Riley sang it in front of a carousel on a particularly self-edifying moment on Glee. Candice Bergen sang it not once but twice on Murphy Brown. Even though the song has risked overexposure, and been covered and recovered (once by Rod Stewart, okay), and used on soundtracks and watered down to sell hair dye in commercials, its power has endured because of the emotion Franklin pumped into it when she first recorded it.
Most people know that Carole King and Gerry Goffin wrote they lyrics to "A Natural Woman," but the origin story is a trip. Here's how it's described it in a New Yorker profile of Franklin:
It was 1967, and [King] and Goffin were in Manhattan, walking along Broadway, and Jerry Wexler, of Atlantic Records, pulled up beside them in a limousine, rolled down the window, and said, "I'm looking for a really big hit for Aretha. How about writing a song called 'A Natural Woman.'" He rolled up the window and the car drove off. King and Goffin went home to Jersey. That night, after tucking their kids into bed, they sat down and wrote the music and the lyrics. By the next morning, they had a hit.
What amazes me about this anecdote is how King and Goffin were handed, not even a sketch of an idea, but like the equivalent of a small child asking an adult to draw some picture they had in their head. What the hell is a natural woman? Not to detract from the very good lyrics King and Goffin wrote, but it was Franklin's voice and how she sang the song that actually gave life to the idea.
Honestly, Franklin could sing "blah blah blah," with the exact same melody and phrasing, and the song would still conjure up everything involved with the emotional journey of being a woman, of finding yourself, of hitting your own personal high notes in 2:47.
Franklin famously started singing in church, so everything she sings feels rapturous, spiritual, like a sermon, even. But it's more than just her transcendent voice — it's her interpretations of melodies, her phrasing that makes this song so emotional and what makes her a musical genius. Like on the first verse of "A Natural Woman," she starts, so cautiously, so weary, hitting the word "tired" in a way that makes you feel like you too need a year-long nap. But she quickly builds energy into the chorus, so by the time she hits the height of "You make me feel," the listener feels like the song's protagonist does: rejuvenated, alive, liberated.
Sometimes it can seem that in the popularization of this song and her other big anthems, Franklin's power was co-opted, maybe even appropriated by some wan, pale demonstration feminism. But every time Franklin sings it—she reminds us who owns it.
It's clear in the 2015 video of her singing it at the 2015 Kennedy Center Honors, when she dropped her fur coat to the floor mid-chorus and made Barack Obama weep. But it's especially clear in this 1998 VH1 Diva's Live performance. Franklin was asked to share a stage with Mariah Carey, Gloria Estefan, Céline Dion, Shania Twain, and Carole King, and at one point sing a version of "A Natural Woman." Now, Historically Diva's Live is usually just a competition of who can out-diva who, but this performance should be renamed Aretha Franklin and the Diva-lites, because it was clear immediately who was taking ownership of this song. Franklin sang Céline's line, and Céline just let her. When it came to runs, nobody could touch her. Mariah, no contest. Shania who? Estefan? Did the rhythm snatch your vocal cords?
It was just a reminder, this song remains hers, the power is just ours to borrow.