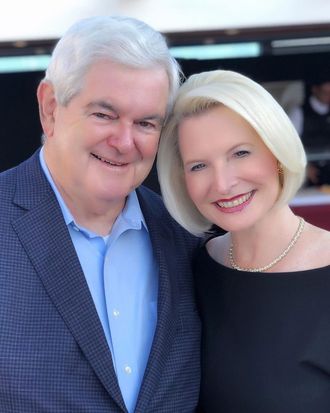 Smooth.
Photo: @callygingrich/Instagram
This weekend, U.S. Ambassador to the Holy See Callista Gingrich shared a picture on Instagram of what, at first glance, looks to be an abstract painting — soft, shapeless masses of cool, icy colors. It's evocative of a Rothko, or perhaps a Malevich. But upon closer inspection, it appears, in fact, to be an ever so slightly altered photograph of the Ambassador and her husband, former Speaker of the House and zoo-enthusiast, Newt Gingrich.
The Gingrichs' silky smooth picture comes on the heels of an equally flawless couples photo posted earlier this month by former Fox News host and accused peen pic pusher Kimberly Guilfoyle of her and her boyfriend, First Boy Donald Trump Jr.
Beautiful.