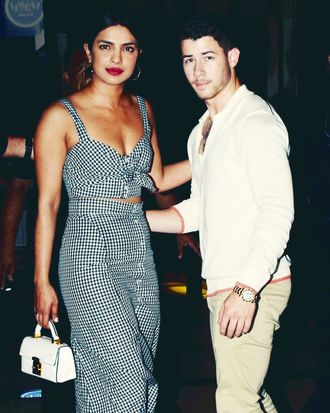 Priyanka Chopra and Nick Jonas.
Photo: Hindustan Times/Hindustan Times via Getty Images
Things between Priyanka Chopra and her "mature" fiancé Nick Jonas sure are moving fast. After a whirlwind romance (that led to them getting engaged after only a few weeks of dating), Chopra, 36, and Jonas, 25, are already having an engagement party this week in India.
People reports Nick and his parents, Denise and Kevin Jonas Sr., were pictured arriving in Mumbai on Thursday morning. E! reports that the Jonases (Jonai?) are in town not only to meet Priyanka's family, but also to attend an engagement party hosted by her family. A source told E! that the party will be "the first time that their families intermingle and get to know each other."
The source continued, "Priyanka wants everything to be traditional to respect her family's values, and definitely an Indian wedding." But perhaps most importantly, the source points out another reason for the seemingly fast engagement party: "All of the plans are moving quickly and Priyanka and Nick do not want to have a long engagement."
Damn, from starting to date in May to having an engagement party in August, things sure seem to be moving at lightening speed with these two.