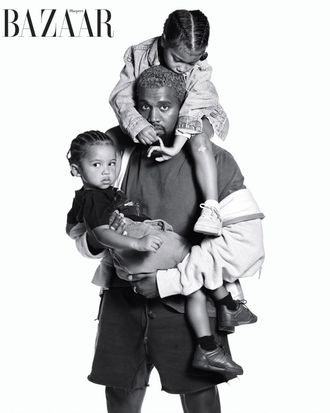 Kanye West with kids on the cover of
Harper's Bazaar.
Photo: Mario Sorrenti /Harper's Bazaar
Kanye West, wearing his own sweatpants cut-off situation and two of his children, appears on the cover of the new September issue of Harper's Bazaar, the magazine's fifth-annual ICONS edition. This year, Bazaar is celebrating heavyweights in music — including Mariah Carey, Christina Aguilera, Lionel Richie, and Bruce Springsteen — all posing with their children. Springsteen fronts the U.S. newsstand cover alongside his daughter, Jessica, while the West clan appears on the cover sent to subscribers.
"I am especially excited about this year's theme for ICONS because it involves family," said Bazaar creative director Carine Roitfeld. "It was amazing to see that some of the industry's most ground-breaking rockstars have a sense of tenderness with their loved ones, even if they are adults!"
Too bad Roitfeld snubbed North and Saint's mother for the cover, considering her own foray into Grammydom.