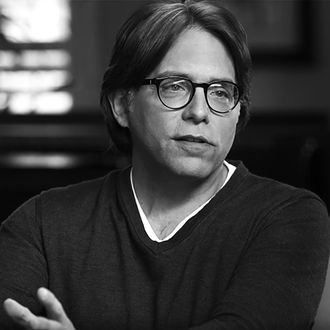 Keith Raniere.
Photo: Youtube/Keith Raniere Conversations
NXIVM founder Keith Raniere's apparent goal was world domination — to build an international following that would live to protect him, his close supporters, and the women who were in his alleged sex cult. In the new book Captive: A Mother's Crusade to Save Her Daughter From a Terrifying Cult, actress and author Catherine Oxenberg writes that Raniere saw an opportunity to get a NXIVM supporter on the world's political stage in Mexico, where he cozied up to the country's wealthy and elite in an attempt to infiltrate the government.
According to Oxenberg, whose daughter was branded and subjected to ritual humiliations as part of her involvement in NXIVM, Raniere's most powerful friend in Mexico was Emiliano Salinas, the son of former Mexican president Carlos Salinas. Per the Daily Beast, as many as four children of former presidents were involved, but it was Salinas who reportedly led the NXIVM branch. (The "self-help" organization has also been called Executive Success Programs, and some centers still exist under the name ESP.)
According to ESP's old website, Salinas joined as an executive board member in 2009, and co-owned centers in Mexico City, Guadalajara, and Los Angeles. Because of Salinas's influence and leadership in NXIVM, Oxenberg writes that Raniere hoped to get him elected to office during Mexico's next presidential election; then, Raniere could use Salinas as his "puppet."
"Keith had been playing and positioning his devoted follower Emiliano Salinas as his pawn for years while Emi's family groomed him to follow in his father's political footsteps," she writes. "From what I heard from high-ranking defectors, the supposed plan was to get Emi into office in Mexico's next presidential election in the summer of 2018 so that a top-ranking Espian and Nxivm devotee would have power on the world's political stage. His father, Carlos, would use his Machiavellian methods to ensure his son's election win, and then Keith would use Emi as his puppet and rule Mexico."
But Raniere's attempts to accumulate power in Mexico allegedly didn't stop there. In Captive, Oxenberg claims that he "sent out members of his harem to seduce various members of law enforcement and public officials so that he could compromise them."
It was in Mexico this past March that the U.S. government eventually found Raniere, who was deported before being arrested and charged with sex trafficking, and soon after, NXIVM's second-in-charge, Allison Mack, faced a similar fate. By mid-April, after watching those around him face consequences for their involvement in NXIVM, Salinas announced that he was out.