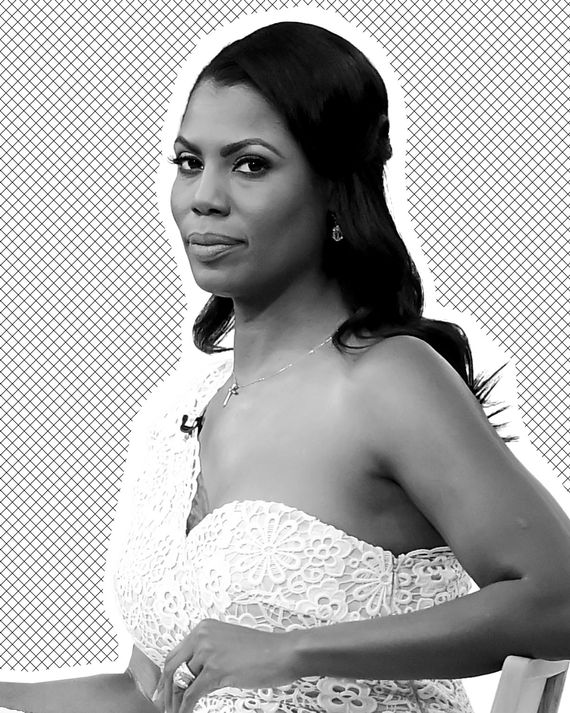 If you're seeking meaning amid this administration's incessant stream of falsehoods and shifting explanations, it's helpful to look to the women, who tend to be highly "visual" people. Most of the women of Trumpworld communicate quite reliably via symbols and imagery (including fashion). And this is the case, again, with Omarosa Manigault-Newman, whose new book Unhinged: An Insider's Account of the Trump White House was released last week.
Omarosa is possessed of the kind of telegenic, stylized, and high-maintenance beauty that Donald Trump favors in the women he hires (or sires, or marries, etc.): Exaggerated figures, showcased in fitted dresses, sculpted features enhanced with dramatic makeup, false lashes, and long hair in waves. We know this look — it's the Fox news anchor look, the beauty pageant look. (Omarosa was once, in fact, a pageant queen.) And along with her other qualifications, these camera-ready looks clearly helped propel her career within the Trump organization, from star-villainess on The Apprentice to the White House. What's more, as she makes plain in her book, Omarosa was a consummate team player, committed to spinning Trump propaganda, covering for his ignorance — especially on matters of racial politics — sticking to nonsensical talking points, and using any reality-television trick available to protect the Trump brand. Omarosa was a pure creature of the TV screen — which is exactly why Trump loved her.
Now that she's on her book tour, regretting her former "blind spot" (as she puts it, self-forgivingly) about Trump and dishing White House dirt, Omarosa has dialed the va-va-voom factor up to maximum. For her early-morning interview on NBC's Today show, for example, she turned up in what looked like a cocktail dress: a tight, bright yellow lace number with a sweetheart neckline, strapless on one side, and punctuated by a single, wide lace shoulder strap slashing diagonally down from one shoulder to sternum, looking for all the world like a beauty pageant sash. The asymmetry of the top half of the dress was echoed by its asymmetrical hemline — high in front, low in back — creating a great deal of off-kilter visual "movement," which was as unsettling and attention-grabbing as the bare shoulders and cleavage on morning TV and the megawatt neon-yellow color. This was a disco ball, a strobe light of a dress — and Omarosa was the only dancer out on the floor.
Social-media critics grasped the motif at once: "Did you come to the Today show from a night of clubbing?" sniped one. "Canary yellow dress screams 'look at me'," complained another.
By the time Omarosa appeared on Trevor Noah's The Daily Show, she looked less like a person dressing for a night out than she did a person un-dressing for a night in — clad in a pale peach, skin-tight, low-cut dress that resembled a Spanx slip (but sexier), accessorized with a cinching corset belt with a provocative, dangling zipper. She looked, frankly, one zipper-pull away from total nudity. And as she seated herself across from Noah, Omarosa wriggled her derriere and said "I gotta get all this jelly up in this chair now," citing the classic Destiny's Child dance-floor taunt, "Bootylicious." Noah did not take the bait — but it didn't matter, Omarosa was doing more than flirting with him. She was addressing the entire country, making sure it took note of her very palpable, physical presence.
And this is how Omarosa, that genius of the fictional screen-world imagery, has become something else: a truth-telling body of the real world. With these in-your-face sartorial choices, Omarosa is asserting that she is no longer just a collection of pixels or a scripted character. She now wishes to be classed in the "nonfiction" category, and is using her erotic authenticity to prove it. In choosing to expose Trump for what she sees as his "unhinged" personality, incompetence, ignorance, sexism, and racism, Omarosa is exposing herself, literally. She is refusing the confines of the image that got her to the White House, bursting out of two-dimensional entertainment universe and into three-dimensional truth. Her self-consciously eroticized flesh connotes this truth and so, crucially — and analogously — do those amazing audio tapes of hers. The physical, undeniable starkness of Omarosa's bared body reiterates and enforces the physical, undeniable starkness of those truth-baring tapes.
When Destiny's Child sang "I don't think you're ready for this jelly," it was sexy but also a threat. They were warning would-be lovers of the power, even danger, of three-dimensional female bodies, reminding men that women are erotic flesh-and-blood human beings to contend with, not just pretty fantasy creatures. And by referring — however flippantly or even vainly — to her own "jelly," Omarosa was doing the same, renouncing the decorative, duplicitous character she once played for Trump and declaring herself an incontrovertible physical fact, a person of substance who is speaking her own frightening truths — all backed up with hard evidence. (Politico has reported that White House aides are indeed "terrified" of Omarosa's tapes.)
Relying tacitly on a pro-sex, pro-sexy feminist presentation, Omarosa has reframed herself, reclaiming control of her image and message. In this, she strongly resembles Stormy Daniels, another screen beauty once favored by Trump (in a far different context, let us be clear) who also escaped the confines of her role (as hushable commodity) with the help of tangible —physical — evidence in the form of documents and tape recordings (of conversations between Trump and Michael Cohen). Like Stormy, Omarosa comes across in interviews as utterly credible and undaunted by any preconceptions viewers might have of her. And finally, like Stormy (and several others), Omarosa has been offered hush money (in her case from Lara Trump, back-bencher of the pageant-y Trump women) — a monthly stipend (which she refused).
Omarosa was never a porn star or one of Trump's (alleged) mistresses. But she considered him her "mentor," and for years built and fueled her personal brand by swimming in the Trump pool and indulging in Trump-style schlock. And Trump reciprocated — clearly seeing in Omarosa a convenient way to have yet another high-gloss woman around from whom he could also hope (vainly, it turned out) to acquire some credibility with African-Americans. But he never expected trouble from her. As a woman, she was just another unreal, flat-screen image to him. But once again, as was the case with Stormy, a woman threatens to undo Trump by upending his expectations, refusing to stay two-dimensional, and producing her own indisputable "body of evidence."
Omarosa told Trevor Noah that she knew no one would believe her without those audio tapes, and she was likely right. But each one she releases proves her veracity. They have already exposed General Kelly making veiled threats to her in the Situation Room, colleagues discussing Trump's possible use of the N-word, and Lara Trump offering hush money. More tapes will surely follow and who knows what outfits Omarosa will dream up as she continues her striptease of truth.
As many have noticed, Trump has responded to the embarrassment of Omarosa's tapes with yet another diversionary tactic from the totalitarian playbook: revoking security clearances from those in high government positions (past or present) who disagree with him. Not only is this an attempt at distraction, it's a misplaced attempt to staunch the flow of information. A security clearance grants official access to certain kinds of documented "truth"; but it's not men's official access to truth that is gnawing at Trump right now (and the bureaucrats losing clearance are all male, save for Sally Yates). What bothers him is one woman's U.N.-official access to truth: Omarosa and her uncanny, James Bond–like ability to record ultraconfidential meetings with her iPhone (or some other stealth device). Revoking security clearances from John Brennan et al. will do nothing to turn back time and make Omarosa's tapes vanish.
There's a poetic justice to Trump being undone by women, whom he under-estimates and dismisses so blithely. Trump just doesn't seem to get that women are real, even while he so loves to be surrounded by them. To him, they are alluring props to enhance his own staged life. To be sure, in the case of Omarosa, the exploitation was mutual. But watching her recent interviews and reading Unhinged, I detect — admittedly through the book's layers of self-aggrandizement and disingenuousness — a genuine desire to lay bare the terribly disturbing truths of this administration (including what she credibly describes as Trump's deteriorating cognitive abilities). And since Omarosa remains a show-woman at heart, she is also laying herself bare in the process, intuiting perhaps that this is one more way to telegraph that she's got the goods — the jelly, the tapes, the truth. It feels fierce and confirmatory. And to paraphrase Beyoncé, "I don't think he can handle this."