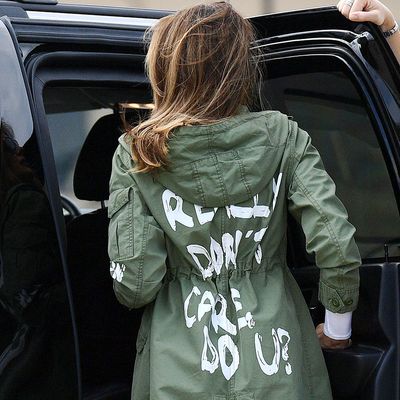 Photo: MANDEL NGAN/AFP/Getty Images
Omarosa Manigault Newman either takes aim at or defends Melania Trump's controversial style choices — depending on how you look at it — in her new book, where she says they're Melania's way of rebelling against her husband.
In an excerpt published by the Daily Mail, the former Trump senior White House staffer writes, "Taken as a whole, all of [Melania's] style rebellions have served the same purpose, and not only misdirection and distraction — strategies her husband knows all too well. I believe Melania uses style to punish her husband." In addition to the infamous jacket that read "I really don't care, do U?" which Melania Trump wore to visit detained immigrant children, Manigault Newman cites her Hurricane heels and pussy bow blouse as further evidence.
"Why did she wear a Gucci 'pussy bow' pink blouse to the presidential debate immediately after the Access Hollywood bombshell? Did she purposefully wear a Hillary Clinton–esque white pantsuit to Trump's first State of the Union address? Did she mean to come off as out of touch and tone-deaf by wearing snakeskin stiletto heels to hurricane-ravaged Texas? The messages behind her style choices aren't always clear, but they are never accidental."
Manigault Newman's unsubstantiated theory is that Melania chooses inflammatory clothing so her husband has to step in and clean up her messes. For the jacket, he tweeted that she was talking about the "Fake News Media" — a "clean-up operation" that conflicted with what Melania's spokesperson actually said. (If Melania were really trying to push her husband, there's a Dior really close to Trump Tower where she can pick up a "We Should All Be Feminists" T-shirt.)
Omarosa is not the first person to float this theory. But rather than serving as hard proof that Trump is sartorially outsmarting her husband, Omarosa's claims are still just one of many opinions in the book. For now. Maybe we'll get a tape.