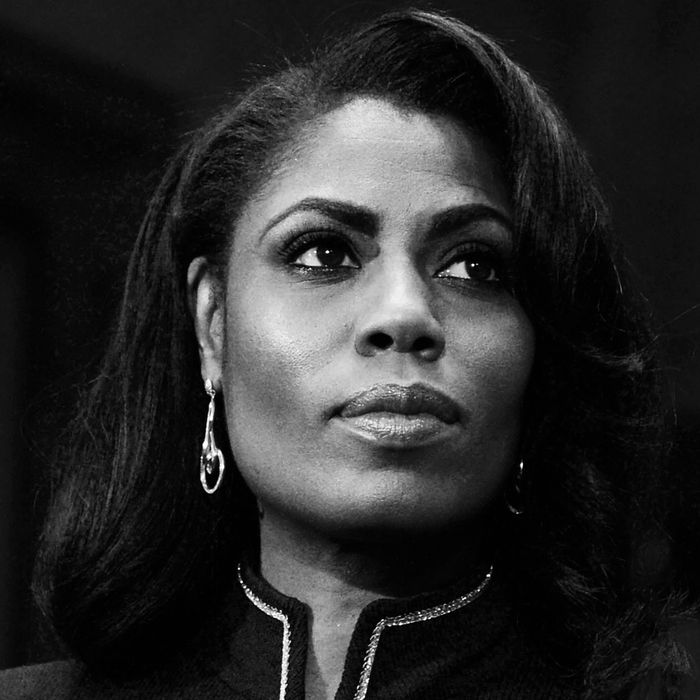 Omarosa Manigault Newman.
Photo: Leigh Vogel/WireImage/Getty Images
Omarosa Manigault Newman, the former Apprentice contestant who served as the director of communications for Trump's Office of Public Liaison, has come back into the spotlight months after her dramatic firing in December. Her new tell-all book, Unhinged: An Insider's Account of the Trump White House, came out on Tuesday, August 14, and Omarosa launched herself wholeheartedly on a press tour to promote it; this, predictably, has been a major headache for the White House.
In the past few weeks, she's made a series of claims that the White House has denied, saying that Trump is on a "mental decline" and that his staffers "prep him to lie every day." She's also said that she personally heard a tape on which Trump says the N-word. Perhaps most notably, the weekend before her book release, she began rolling out a series of private recordings to the public. These include audio of her firing, which took place in the Situation Room — supposedly one of the most secure places on earth; of her discussion with two other staffers about an alleged recording of Trump saying the N-word; and, most recently, of Lara Trump offering her a high-paying job on Trump's reelection campaign to keep her silent. And according to a person with direct knowledge of the recordings who spoke to the Associated Press, Omarosa has more than just audiotapes — she has incriminating videos, emails, and texts.
Here's a guide to all the Omarosa drama of late.
What happened inititally?
On Sunday, Omarosa told NBC's Meet the Press that she had recorded a tape of White House chief of staff John Kelly firing her from the Situation Room (supposedly one of the most secure locations in the world). On the recording, Kelly can be heard citing "some pretty serious integrity violations" as the reasoning behind her firing, saying his decision was nonnegotiable. Back in February, news broke that Kelly dismissed Omarosa for abusing the White House free car service.
On Monday morning, Trump took to Twitter to express criticism of "Wacky Omarosa," saying she was "vicious but not smart." Shortly afterward, the former White House aide released another tape — this one showing that the president was surprised and disappointed by Kelly's decision to fire her. In a private phone call, per the recording, Trump asked Omarosa, "What's going on? I just saw on the news that you're thinking about leaving. What happened?"
"General Kelly came to me and said that you guys wanted me to leave," Omarosa responded. "No," Trump said. "Nobody even told me about it. You know, they run a big operation but I didn't know it … Damnit. I don't love you leaving at all."
She later released another tape alluding to a recording of Trump saying the N-word.
In a recording obtained by CBS News Tuesday, Trump aides can be heard discussing another alleged tape on which the President uses the N-word, allegedly from his time on The Apprentice. Omarosa, along with two other White House staffers — Katrina Pierson, a former Trump campaign spokeswoman, and Lynne Patton, a longtime family friend of Trump's who now serves as a top Department of Housing and Urban Development official — discuss how to handle the potential fallout of the tape. The recording is said to be from an internal call during Trump's 2016 campaign.
On the recording, Pierson can be heard saying, "I am trying to find at least what context it was used in to help us maybe try to figure out a way to spin it." Patton says she asked Trump about the existence of this alleged tape and he denied it. "Well, that is not true," Omarosa interjected.
In reference to the supposed N-word tape, Patton said Trump told her to "put it to bed." "No, he said it. He is embarrassed, " Pierson replied.
Both Pierson and Patton have denied the call, with Patton calling Omarosa's book "a work of fiction." Trump, of course, denied the allegations, adding that Mark Burnett, the creator of The Apprentice, called to say the tape does not exist.
"I don't have that word in my vocabulary, and never have," Trump wrote in a tweet. "She made it up."
And one of Lara Trump offering her $15,000 a month to stay "positive" about the president.
On Thursday, Omarosa released another tape exclusively to MSNBC, this one revealing that Lara Trump, the president's daughter-in-law and a campaign official, had offered her $15,000 a month to join Donald Trump's 2020 reelection campaign and be "positive" about him. The tape was recorded days after Omarosa's firing. In her new book Unhinged, Omarosa alleged that the White House had offered her hush money; this recording seems to back up that claim.
"I saw this as an attempt to buy my silence, to censor me and to pay me off," Omarosa told MSNBC in an interview, referring to Lara Trump's offer.
Lara has since spoken out. "Woman to woman, I shared a connection with Omarosa as a friend and a campaign sister, and I am absolutely shocked and saddened by her betrayal and violation on a deeply personal level," she said in a statement. "I hope it's all worth it for you, Omarosa, because some things you just can't put a price on."
How big of a deal is this?
Now that Omarosa has released three privately recorded tapes, pundits speculate she has many more, raising serious questions about White House security.
The White House has dismissed Omarosa as a disgruntled ex-employee seeking revenge on the administration. In a statement, Sarah Huckabee Sanders, the White House press secretary, said she had a "blatant disregard for our national security" and a "lack of character and integrity."
Was what Omarosa did illegal?
On Tuesday, the Trump administration filed an arbitration action against Omarosa, saying she breached her nondisclosure agreement from 2016 by releasing a series of secret recordings, the Washington Examiner reports. Conservatives like Ben Shapiro are already calling for her prosecution.
But experts suggest there were no security laws in place for Omarosa to have violated. As Margaret Hartmann notes, pressing the point only further raises questions about the security of Trump's White House.
Ned Price, a National Security Council spokesman for the Obama administration, told the Washington Post that while cell phones and recording devices are barred from the Situation Room, there is no screening process. "It's a system based on honor and integrity, and there's a sign outside that says, 'Place your phones here,' " he said.
It's strange that General Kelly held the conversation with Omarosa in the Situation Room, which is usually reserved for things like negotiations with Iran and contingency plans for nuclear launches. Since Omarosa didn't hold any kind of security clearance, she likely didn't violate federal law so much as break some rules and regulations, CNN security and legal analyst Susan Hennessey said.
What's next for Omarosa?
Ever since her firing, Omarosa has been on a grand de-MAGAfying tour, blasting Trump left and right. With these recently released tapes and the book set to publish tomorrow, she shows no plans of slowing down (though many question the credibility of the notorious reality-TV figure).
As one former White House official told New York's Daily Intelligencer, "If you pissed off Omarosa, buckle up — it's going to be a tough couple of weeks."
This post has been updated throughout.