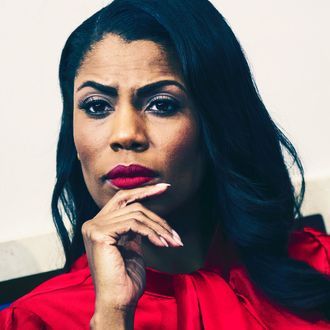 Omarosa Manigault.
Photo: Drew Angerer/Getty Images
While it probably won't be another Fire and Fury, former White House director of communications Omarosa Manigault's upcoming tell-all book is sure to be replete with messy drama about the Trump administration — especially if the whole book is like one of the first-released excerpts, in which Manigault claims that the president is suffering "mental decline."
In Unhinged: An Insider's Account of the Trump White House, Manigault at one point focuses on Trump's troubling interview with Lester Holt, where the president went off-script and revealed why he fired former FBI director James Comey, to her dismay. Watching the footage from the press room, Manigault came to a single conclusion, which she reveals in an excerpt — obtained, appropriately, by the Daily Mail.
"While watching the interview I realized that something real and serious was going on in Donald's brain," she writes in her book. "His mental decline could not be denied."
According to Manigault, she's uniquely qualified to assess Trump's actions because she, a former Apprentice villain, has known him for 15 years.
"Many didn't notice it as keenly as I did because I knew him way back when," she continues in her book. "They thought Trump was being Trump, off the cuff. But I knew something wasn't right."
While Manigault may not be the most trustworthy source — notably because she, like basically everyone else who's worked in the administration, is an opportunist looking to stay relevant — she does go on to write in her book that Trump rambles, speaks "gibberish," and contradicts himself "from one sentence to the next." Honestly, it's kind of hard to argue with that.