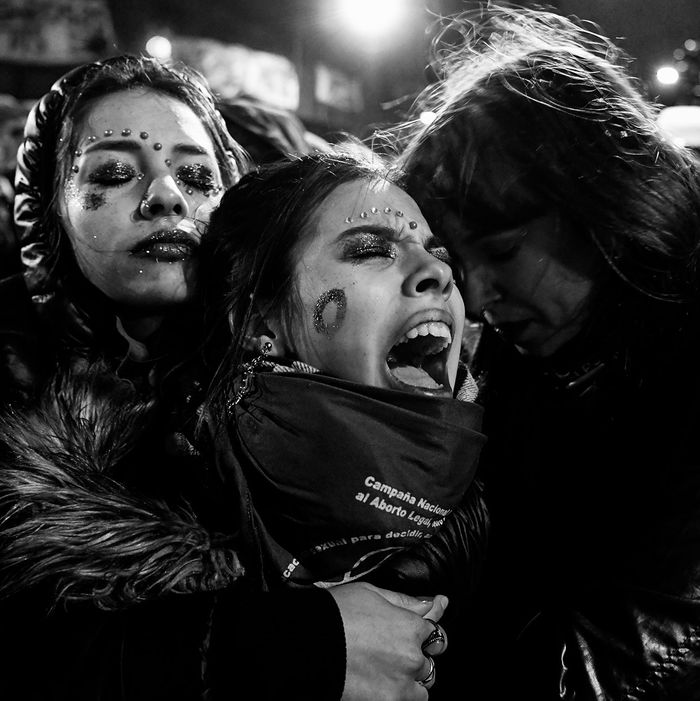 Abortion activists in Argentina.
Photo: EITAN ABRAMOVICH/AFP/Getty Images
Less than a week after the Argentine Senate rejected a groundbreaking bill that would have legalized abortion up to 14 weeks, the country has its first report of a woman who died due to a botched at-home abortion.
Clairín, Argentina's largest newspaper, reports that the victim was a 24-year-old mother of two, who has been referred to only as Elizabeth. On Sunday, according to reports, she attempted to induce a miscarriage at-home using parsley, which caused septic shock and infection. Though she was rushed to a hospital in Buenos Aires, where her uterus was removed, Elizabeth died on Tuesday.
According to Argentina's National Ministry of Health, approximately 500,000 illegal abortions are performed in the country each year, many of which result in dangerous complications. Just last week, the Senate had the opportunity to pass what would've been a historic bill to decriminalize abortion, which had already passed the lower house in June. Instead, the upper house voted down the bill in a move that activists decried as a "huge step backwards."
Following reports of Elizabeth's failed abortion, many of the same activists again spoke out, blaming the victim's death on the Senate's disregard for women's lives.
"Liz, the 24-year-old young woman that was hospitalized in Buenos Aires after a clandestine abortion, has died. This is the outcome of the voting session in the Senate. They don't care about the lives of the women. Legal abortion or clandestine abortion, that's the discussion," tweeted Raquel Vivanco, who is part of the grassroots feminist movement Ni Una Menos.
As Guttmacher notes, abortion bans are wholly ineffective at reducing the rate of abortion: They just drastically increase the likelihood that women will seek out unsafe, back-alley procedures. According to the World Health Organization, a woman in a developing country dies every eight minutes due to complications arising from illegal abortion — a bitter irony, given the fact that the international "pro-life" movement celebrated last week's vote as a major victory.