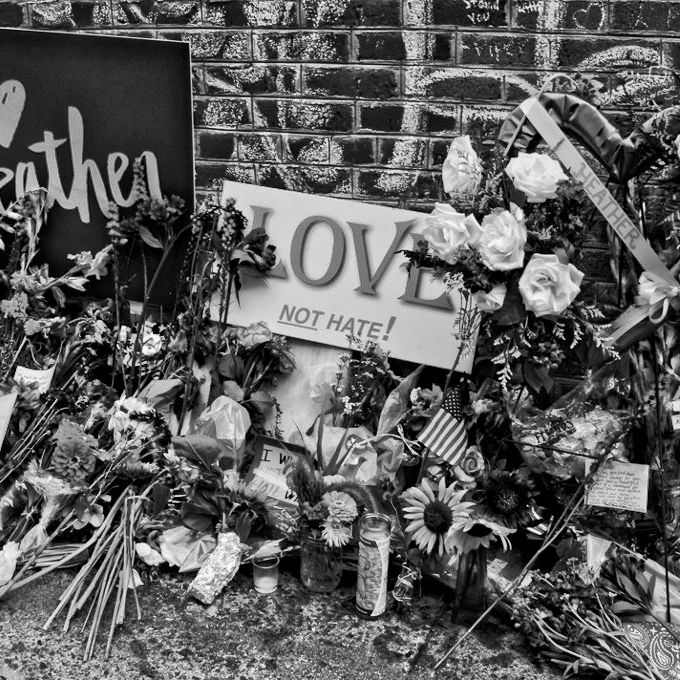 Photo: NurPhoto/NurPhoto via Getty Images
On the anniversary of Heather Heyer's death, people gathered around the street she was killed on in Charlottesville, Virginia, to reflect on last year's protest and to remember the life of the woman who was killed while standing up against hate. Amid heavy police presence Heather Heyer's mother, Susan Bro, spoke at the memorial.
"I don't want other mothers to be in my spot," Bro said, through tears. "I don't want other mothers to go through this." She also presented two roses to honor the state troopers who died in a helicopter accident that same day.
In an interview with The Atlantic, Bro discussed in-depth the year since Heather was killed. She said that she is still learning all the ways the United States treats people unfairly, and that Charlottesville has not changed much since last year.
Heather Heyer was killed by a man identified as a participant of the 2017 Unite the Right rally, and who was later charged with first degree murder. The rally was planned by white nationalists across the country, with the stated reason being to protest the removal of a Confederate monument. Heyer was among the hundreds of counterprotesters who marched in opposition to the white nationalists.
While Susan Bro and hundreds of others were gathered to remember Heyer in Charlottesville, white nationalists converged on Washington, D.C., for a second annual Unite the Right rally. Thousands of counterprotesters are also organizing in the city, for Shut It Down D.C., and dedicated their efforts in part to Heather Heyer.