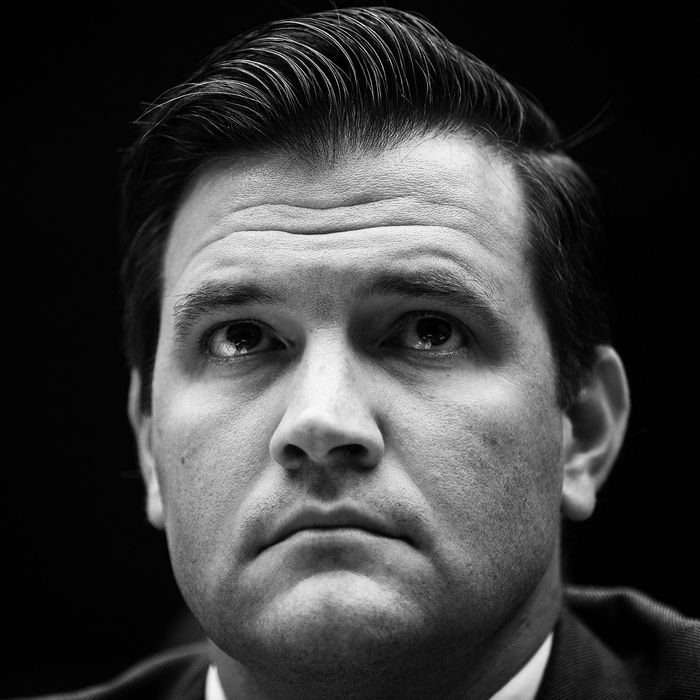 Scott Lloyd.
Photo: Drew Angerer/Getty Images
Scott Lloyd, the head of the Office of Refugee Resettlement, has worked zealously to prevent several undocumented teens in his care from getting abortions, going so far as to (unsuccessfully) attempt to compel a 17-year-old girl in detention to "reverse" her procedure after she'd taken the first of two pills required for a medical abortion. He is so concerned with the issue of abortion, according to reports, that he demands weekly spreadsheets containing information about every pregnant, unaccompanied girl in ORR custody who has asked for a termination.
Now, a document obtained by Mother Jones shows that in his youth, Lloyd drove one of his ex-girlfriends to get an abortion, and helped pay for half of the procedure.
In the paper, a six-page essay Lloyd wrote during his first year of law school at Catholic University back in 2004, Lloyd says the experience made him oppose abortion even more fervently, even in cases of rape, incest, and when the life of the mother is at risk. He described the "sleepless week" he spent when he learned the woman was pregnant, how he prayed and read the Bible and talked to friends, and how, when the day finally came, he drove her to the clinic, arguing the whole way.
According to Mother Jones, which received the document from one of Lloyd's former classmates, he wrote that the woman asked him to pay for half of the procedure, and that he reluctantly complied:
On the way there, I gave her the money, mostly in ones, for two reasons: 1) if I didn't, I would be the enemy and she would stop listening to me and 2) because if she went through with it, I didn't want to leave thinking it wasn't my fault. Both were stupid reasons. In the parking lot we argued one last time. 
Although he bemoans the episode ("The truth about abortion is that my first child is dead, and no woman, man, Supreme Court, or government — NOBODY — has the right to tell me that she doesn't belong here," he wrote), what the woman he drove to the clinic that day experienced — the financial and physical freedom she had to make a choice about her body — stands in stark contrast to what Lloyd put migrant teens through in recent years.
Prior to Lloyd taking over the ORR, Mother Jones reports, the agency "routinely" permitted undocumented minors to obtain abortions if they were able to secure the funding. After his appointment last spring, however, Lloyd changed the agency's policy to require that he personally approve any abortion procedures requested by or for undocumented minors in ORR custody. He has, when asked for such approval, ordered the teens be sent to anti-abortion crisis pregnancy centers; has ordered that a teenager who was scheduled to be released be held until she could receive anti-abortion counseling; and has traveled to meet a young migrant face-to-face in the hopes of changing her mind about terminating her pregnancy.
As horrific as this behavior is, none of it is that surprising coming from the man who, in this essay, compares abortion to the Holocaust:
The Jews who died in the Holocaust had a chance to laugh, play, sing, dance, learn, and love each other. The victims of abortion do not, simply because people have decided this is the way it should be, not through any proper discernment of their humanity. Neither type of murder is more or less tragic, but don't fool yourself into thinking that they are not both tragedies, and they are not both murder. 
And says that women shouldn't have sex unless they're willing to have a baby:
By making the choice to have sex, a woman is making a conscious decision to engage in an act that has the natural result of creating a pregnancy. A pregnancy implicates the rights of two other people—the baby, and the father, whether our government wants to recognize that or not. A state would not be violating any rights by recognizing and codifying the natural consequence of a person's action, protecting a fetus's right to life, and protecting a father's right to be a father.
Read Mother Jones full report here.