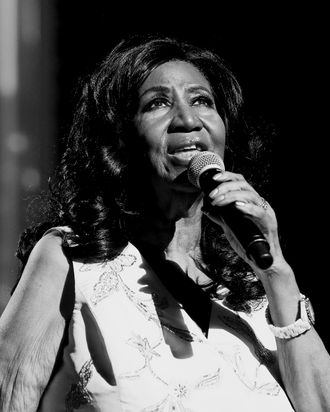 Aretha Franklin performs at the Tribeca Film Festival in 2017.
Photo: Taylor Hill/Getty Images
Legendary soul singer Aretha Franklin, known for megahits including "Respect," "I Say a Little Prayer," and "Chain of Fools," has died at the age of 76. Her publicist confirmed in a statement that her cause of death was pancreatic cancer. She was diagnosed in 2010, and has been battling the disease on and off ever since. "She has been ill for a long time," a close friend of hers told People. "She did not want people to know and she didn't make it public."
If it feels like you've been hearing a lot about pancreatic cancer lately, you're right. In addition to Franklin, Steve Jobs, Patrick Swayze, Alan Rickman, and Sally Ride (among others) have all lost their lives to the disease in recent years. According to an April report in Scientific American, pancreatic cancer is on the rise: It's currently the third-leading cause of cancer-related deaths in the United States, and it's soon expected to replace colon cancer in the second spot. (Lung cancer is number one.) What's more, over the last decade, new cases of pancreatic cancer have increased by about 0.5 percent each year.
Nobody's sure exactly why pancreatic cancer is becoming more common. Risk factors like obesity and type-2 diabetes may account for the increase, though those factors increase the risk of many forms of cancer, not just pancreatic. Smoking is a risk factor, too, and even though Americans aren't smoking as much as they used to, scientists expect it to take another 30 to 40 years for the cancer death rates to reflect that change.
The human lifespan is also increasing, and as we age, the parts of our body that essentially clean up our DNA become less effective, which means we're more susceptible to genetic errors that can cause tumors leading to cancer. Most people diagnosed with pancreatic cancer are between 55 and 84 years old.
Ironically, recent medical advancements may account for the rise as well. Advancements like immunotherapy don't work well for pancreatic cancer, so deaths by pancreatic cancer are growing while deaths by other cancers that respond well to immunotherapy are slowing down, pushing pancreatic cancer up the rankings. And thanks to high-resolution imaging and more accurate methods of testing biopsied tissue, tumors that were once a mystery have now been identified as pancreatic.
Because pancreatic cancer tumors are quick to spread to other parts of the body, they're more difficult to deal with from a treatment perspective. "The cells break away like a crumbling popcorn ball," Otis Brawley, chief medical and scientific officer at the American Cancer Society, told Scientific American. Researchers are currently trying to figure out how to detect early signs of pancreatic cancer, but even if they come up with something, an improved treatment plan to actually tackle the metastasizing would be required.
Thankfully, there has been some progress: In recent years, the number of people diagnosed with pancreatic cancer who can expect to live for five years after their diagnosis has gone up from 6 to 9 percent. We can only hope this trend continues.