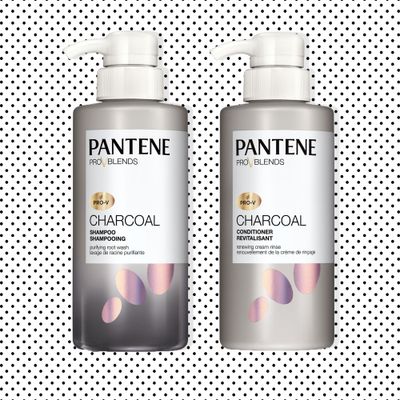 Photo: Courtesy of the Retailer
Activated charcoal, you beauty wunderkind. We need your magical detoxifying qualities now more than ever. We need you to help us maintain our beachy curls as we go on an ABBA-themed Grecian romp. We need you to give us the confidence of a sleek blowout as we try to navigate royal newlywed bliss despite someone's best efforts. Activated charcoal is a "natural" way to deep-clean hair, but it's typically been a pretty pricey journey until now: Pantene just launched a new Pro-V Charcoal shampoo and conditioner.
Let's revisit charcoal 101: Because charcoal is porous, it absorbs "toxins." When used on hair during cleansing, it can absorb the extra buildup that occurs from using a lot of different styling products (three days' worth of dry shampoo, I'm looking at you). This Pantene shampoo and conditioner set is a more affordable way to see if the activated charcoal trend is right for you and your hair (For example, a search on the Goop shop currently returns 14 items containing charcoal).
It's definitely more accessible, too, since washing your hair with charcoal shampoo is slightly less intimidating than say, trying to brush your teeth with charcoal powder. Like any good shampoo, the Purifying Root Wash shampoo focuses on removing dirt, oil, and other impurities from your hair, while the Renewing Cream Rinse conditioner is a lightweight, nutrient-rich way to add shine. Both of the products are free of parabens, silicone, and dyes — in fact, this is actually the first silicone-free Pantene conditioner.
No matter what your hair goals are, getting rid of buildup and focusing on shine are probably pretty important. The purifying qualities of activated charcoal have been around for thousands of years. If you're interested in seeing what the hype is about, this seems like a great entry point into the wonderful world of charcoal.
If you buy something through our links, New York may earn an affiliate commission.