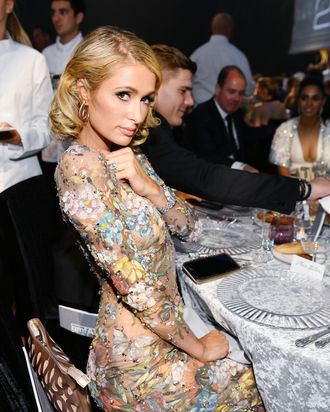 Paris Hilton.
Photo: Emma McIntyre/Getty Images for Pernod / amfAR
Paris Hilton and her fiancé Chris Zylka laughed when TMZ caught up with them at LAX and asked the couple if they would be watching Lindsay Lohan's new reality TV show. "We're too busy," responded Hilton. "We're working," Zylka followed up, emphatically.
We thought that maybe the two former queens of low-slung jeans could mend their friendship at Lindsay's new beach club in Mykonos, but seems that Paris will be "too busy" to even watch the show.
This is just the latest update in the feud between Lindsay Lohan and Paris Hilton. Earlier in July, Paris commented on a fan page's post about Lindsay, and called her a pathological liar. (!!)
Asked if Paris had any advice for Lindsay's upcoming beach club reality show, as a former master of reality television herself, Paris responded: "There's nothing like the original."