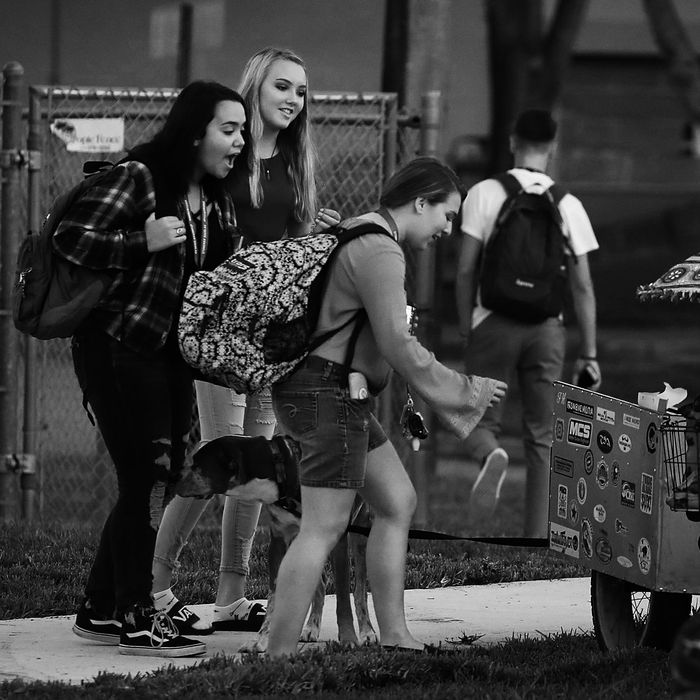 Parkland students on their first day of school, just over six months since 17 of their classmates and teachers were killed during a horrific school shooting.
Photo: Joe Raedle/Getty Images
Just one day after observing the six-month anniversary of the horrific school shooting at Marjory Stoneman Douglas High School that left 17 people dead, students are heading back to their first day of school — an experience that has elicited a flurry of emotions in the hearts of the class of 2018, current students, and the community of Parkland, Florida.
Since the massacre on February 14, Broward County public schools have implemented a number of new security measures as an attempt to prevent future school shootings. On all campuses, there will be an additional 2,500 surveillance cameras and at least one school officer or an armed school safety officer, as well as more frequent lock-down drills.
On this first day back, students can't help but think about last year's shooting. In an interview with ABC, 15-year-old March for Our Lives activist and Stoneman sophomore Lauren Hogg said, "It's never going to be normal again."
"I wish we didn't have to experience this new normal," she said. "I wish it was just like every other year — I'd pick out my clothes, I'd have a good time — but this year, I can't help but constantly think about not only myself and my friends at my school, but constantly thinking about my friends at other schools who don't have as many safety precautions as we now do, and I worry about them."
The day before, teachers began sharing photos of their classrooms, all set up for the first day back.
Former students also began to send off heartfelt tweets to those returning to Marjory Stoneman Douglas on Wednesday. While all sentiments from former students and parents were mournful, some included encouraging messages to students who may find today to be difficult.
"If you need anything whatsoever, don't hesitate to reach out," tweeted Aly Sheehy, who graduated in 2018. "You are not alone."
On the day of, the Parkland community continued to mourn and offer support, using the hashtag that represents Marjory Stoneman Douglas' resilience: #MSDStrong.