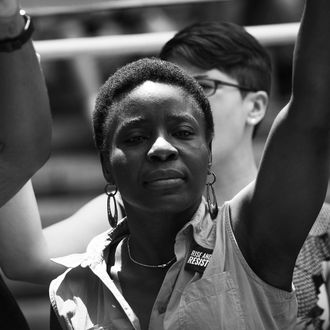 Patricia Okoumou.
Photo: Kevin Hagen/Getty Images
In her court appearance on Friday, the woman who was arrested and charged for bravely climbing the Statue of Liberty on the Fourth of July to protest the Trump administration's cruel "zero tolerance" immigration policy partook in another silent demonstration: wearing a dress that trolled Melania Trump.
Therese Patricia Okoumou, who's pleading not guilty to trespassing and related charges, showed up to Manhattan federal court wearing a green dress that read on the back, "I REALLY CARE, WHY WON'T U?" and "BE BEST." Both statements refer to the First Lady: The first references the inappropriate jacket that Melania wore to a detention center for immigrant children, and the second is a nod to her confusing "well-being" initiative.
Following her nearly hour-long hearing, Courthouse News reports that Okoumou stood in front of a crowd of supporters and spoke of her involvement in direct-action group Rise and Resist, called on French President Emmanuel Macron to denounce the Trump administration's "barbaric and arbitrary" immigration policies, and started a protest chant.
"America, you motherfuckers, you drug addicts, you KKK, you fascist U.S.A.," she shouted.