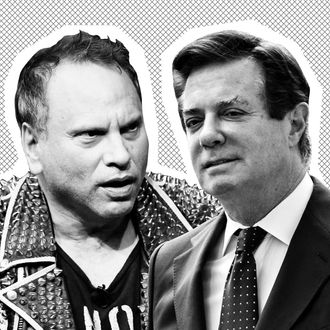 Buzz Bissinger, Paul Manafort.
Photo: Getty Images
It was only a matter of time before Friday Night Lights author and self-proclaimed leather addict Buzz Bissinger came forward to comment on Paul Manafort's $15,000 ostrich jacket, which has somehow become the matte-black highlight of Manafort's federal fraud trial. On Thursday afternoon, shots were fired.
"It's an ugly looking jacket," Bissinger told the Daily Beast. "Mine is much nicer. He should've gone to Gucci if he's going to waste money."
Day two of Manafort's trial revealed that he spent a total of $1.26 million on expensive menswear from 2010 to 2014. In a GQ essay titled "My Gucci Addiction," Bissinger claims that he spent roughly half that amount from 2010 to 2012. At the time, he owned a total of 81 leather jackets, plus a $22,500 Persian lamb's wool Gucci coat. So Manafort poses a challenge to his legacy.
Before roasting Manafort, Bissinger briefly took the high road, expressing empathy and concern for Manafort's mental state. "If he had an addiction and he wanted to spend money, he should've come to me," Bissinger said, adding that Manafort's need for items like ostrich jackets is "a symptom of something else within him."
"They're beautiful, but they're excessive," he elaborated. "And when you buy something excessive, it certainly indicates to me some addiction to a certain type of lifestyle."
But as an image of Manafort's hooded ostrich jacket confirms that his taste isn't just expensive; it's "ridiculous," says Bissinger. This is perhaps the real cause for concern.
"Who in their right mind would buy a jacket like that?" Bissinger said. "Well, I did, and frankly, I wasn't in my right mind."