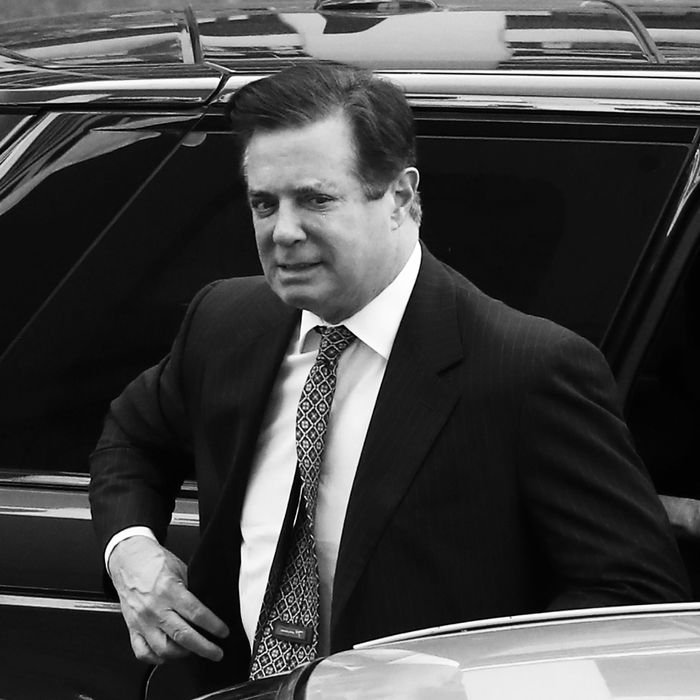 Paul Manafort arriving at his trial.
Photo: Mark Wilson/Getty Images
Paul Manafort is facing 18 charges of bank and tax fraud. On the first day of his trial, Assistant U.S. Attorney Uzo Asonye revealed that the former Trump campaign manager spent $15,000 on a "jacket made from ostrich." It was one of the many, many purchases that Manafort made that demonstrated he had a lot of cash lying around.
On the second day of Manafort's trial, it was revealed that he spent $1.26 million on suits over a five year period. Even the judge presiding over the case struggled to comprehend how that was possible. Attorneys also filed photos of the clothing that Manafort purchased with his allegedly illegally obtained cash. Among a truly wild selection of garments was the ostrich jacket Asonye mentioned on the first day of the trial.
I, correctly, guessed that Manafort could not pull off an ostrich feather look. Which meant that the jacket was probably leather. Still weird, but in the grand scheme of things, surely not the most extravagant way that Manafort has spent money. But then I saw the jacket.
It is a dark blue bomber jacket, with a silk lining, zippered pockets, and drawstrings at its neck. It is wildly unspectacular. It does not look fancy enough to wear inside of Manafort's $14,000-a-month condo. No bird deserved to die for that jacket.