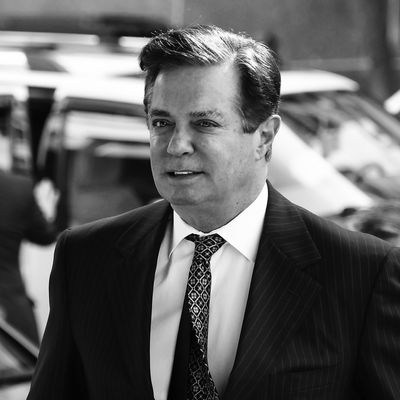 Paul Manafort entering courthouse.
Photo: MANDEL NGAN/AFP/Getty Images
During Paul Manafort's trial for bank and tax fraud charges, it has been revealed that he's spent over $1 million on clothing, including $15,000 on a unimpressive jacket made from ostrich leather. His spending habits don't exactly make him a relatable figure.
His reaction to the news of a high tax bill is something a bit more understandable — even more so given the criminal charges he is facing.
On the second day of former business partner Rick Gates's testimony, Gates testified that he attempted to help lower Manafort's "overall tax liability," according to HuffPo. Manafort's firm was losing money in 2014 after an unsuccessful political campaign in Ukraine.
According to emails that were read to the court by Gates, when Paul Manafort was informed of how much he owed in taxes in April of 2015, he send an email to Gates that read: "Rick I just saw this. WTF?"
"How could I be blindsided like this," the email continued. "We need to discuss options. This is a disaster."
Honestly, who hasn't felt blindsided by tax season? Paul Manafort, I may never be able to understand the compulsion to spend massive amounts of wealth on lofts in SoHo and clothing, but I get the seasonal dread that comes when you get the bill from the federal government.