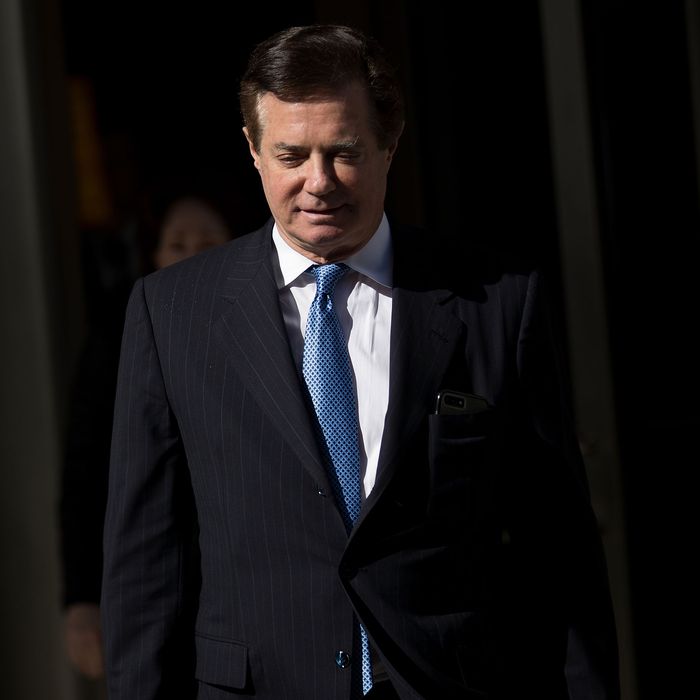 Paul Manafort.
Photo: Drew Angerer/Getty Images
If you thought a $15,000 jacket made from an ostrich was extravagant, the second day of Paul Manafort's trial revealed that over five years, he spent $1.26 million at just two high-end clothing stores.
We already knew Manafort had a knack for big spending and flashy suits. But Wednesday's proceedings revealed just how far he was willing to go in the name of menswear.
According to a Washington Post report of the proceedings, 29-year-old Maximillian Katzman testified that Manafort was one of the top-five clients at Alan Couture, a "luxury menswear boutique" in midtown Manhattan founded by Katzman's father, Alan Katzman. Between 2010 and 2014, Katzman said that Manafort spent $929,000 at the store.
I guess when you're a "top client," people look the other way when you pay via wire transfers from foreign bank accounts, which is what Manafort did at both Alan Couture and House of Bijan in Beverly Hills — the self-proclaimed "world's most expensive store."
Ronald Wall, chief financial officer at House of Bijan, also took the stand on Wednesday, revealing that Manafort spent more than $334,000 between 2010 and 2012. Between Wall's lime-green tie and Katzman's shiny blue suit, it was certainly a very fashionable day in Judge T.S. Ellis's courtroom.
"Is it Bi-yan?" Ellis asked at one point, trying to clarify the store's pronunciation. (It's not.) "I can't recognize these names," he continued. "If it doesn't say 'Men's Wearhouse,' I don't know it."