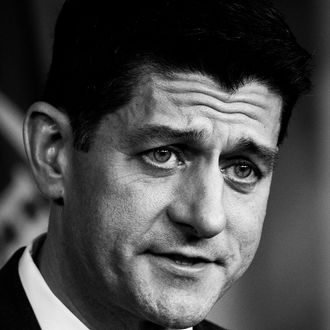 Paul Ryan.
Photo: Bill Clark/CQ-Roll Call,Inc.
It was an easy mistake: Donald Trump, whose intentions are usually puerile and cruel, used to call Paul Ryan an insulting nickname, and the lipless Speaker of the House thought the president meant it as a "compliment."
In September of 2017 — while the Trump administration was in the midst repeatedly attempting to repeal Obamacare and replace it with a merciless healthcare bill — Politico reported that Trump found Ryan to be annoyingly dry, and had taken to calling him "boy scout." In a new report from the New York Times, Ryan admits that he initially had no idea the nickname was derogatory.
"I thought it was a compliment," Ryan told the paper. After the Republican-controlled Congress managed to pass a few bills Trump liked, however, the president announced he would no longer be using the nickname, prompting Ryan to later recognize that he "meant it as an insult all along."
"I didn't realize," he added.
What's more embarrassing for Ryan: This, or that time a bunch of middle-schoolers brutally owned him on Instagram?