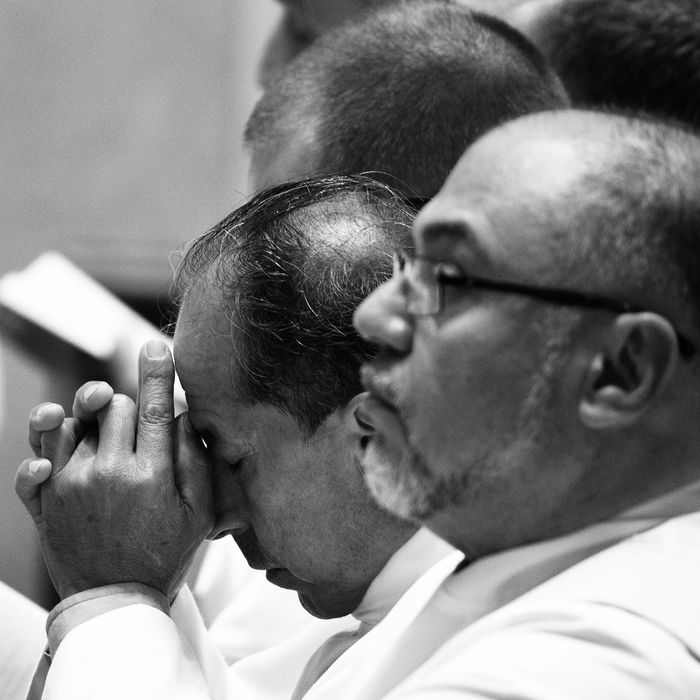 Priests praying during Pope Francis's visit to Philadelphia in 2015.
Photo: Andrew Caballero-Reynolds/AFP/Getty Images
In an over-1,300 page document released earlier this week, a Pennsylvania grand jury found that over the past 70 years, 301 priests in six of the state's eight Catholic dioceses had sexually abused over 1,000 children. But because of the laws currently in place, most of the victims can't take legal action against their abusers. Now, Pennsylvania lawmakers are working to change that.
Take, for instance, Jim VanSickle, 55, who told the Washington Post this week about his experiences with Father David Poulson, but cannot join the case against his abuser because he's now too old to do so. (Poulson is one of just two of the priests who were investigated in the report to face prosecution; he was charged earlier this year with abusing two boys in 2002 and 2010.)
In 1979, when VanSickle was 16, Poulson came to teach English at VanSickle's school, Bradford Central Christian High School. Poulson took the teenager under his wing, naming him captain of the chess team, a role which meant VanSickle and Poulson would travel together to out of town competitions.
Soon, VanSickle says, Poulson began buying him beer, tickling him, wrestling with him, attempting to grope him.
During a trip to Ohio right before VanSickle's graduation, the priest tried to rape him in a hotel room, holding him down on the bed, with his erect penis poking out of his pajamas.
"He attacked me at that point, and for the first time, I felt terror and fear from the fact that it almost seemed like he had eight or nine arms versus the two that I'm using to get him off," VanSickle said.
Still, VanSickle, who is a tutor and life coach in Pittsburgh now, says that he still struggles with complicated feelings of affection for the man who attacked him.
"It's the emotional trauma and the loss of that relationship that still haunts me and still controls me in some situations."
Currently, as CNN points out, Pennsylvania law only allows victims of child sexual abuse to press criminal charges against their abuser until they are 50, and civil lawsuits until they are 30. A new bill in front of the state House, however, would eliminate the statute of limitations and raise the civil lawsuit ceiling to 50.
Though similar bills have failed in the past, House Majority Leader Dave Reed is using the outrage surrounding the report to gain support for the measure.
"The crimes reported by the grand jury are horrendous, and the cover-up even worse. The days of protecting abusers must end. It is time for all of us as policymakers, but more importantly, as humans, to stand up against the betrayals of the most vulnerable among us," says a statement on his website.
In the meantime, victims continue to struggle with the abuse inflicted upon them as children by those they thought they could trust.
"He gave me somebody to be able to confide in, which makes the whole thing so confusing to me," VanSickle told the Post of Poulson. "Seeing him in shackles and an orange jumpsuit, people asked me, 'Why don't you hate him? Why don't you want to hurt him?' Well, I do. But at the same time, I have some really strong conflicting feelings. It's not hard to love the man that he was before he did what he did."