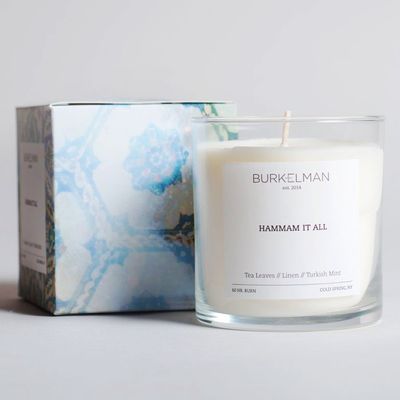 Photo: David Kimelman/Mr. Burkelman Inc.
It's very hot. Yes, we are trying to appreciate it, but there are some moments when you're crashing on a friend's couch in Los Angeles in 100-degree heat, just as an example based on no one in particular, and you mistakenly only brought one pair of jeans and two dresses with you, and none of those are appropriate heat-reducing-wear for relaxing indoors, and you remember your bed at home, and your shorts, and your tank tops, and your window-unit air conditioner, and your dog, and your mint candle, and your rose water face mist, and you think — eh, actually, fuck the heat.
Burkelman's "Hammam It All" candle, one of several whimsically named candles in the brand's collection, comes in a box that seems to have enlarged, kinda snowflake-looking things on it, which I enjoy. But what is the candle inside the kinda snowflake-looking box like? Here is how Burkelman describes it:
Self-care in a candle. 




A truly dreamy and calming scent with notes of dried tea leaves as they begin to steep, mixing into warm fresh air and ending with a relaxed cooling mint. No need for a big masseur to pour water over your head and rough you up. You can now Hammam It All – at home.
Of course, dreaming, calming, fresh, relaxed, and cooling are all words that are attractive to me, particularly now but also always (I guess unless I am cold, in which case I would remove cooling). But is the candle itself attractive to me? Let's see.
Is the candle good?
It is. It's interesting. There are a few candle purveyors that have sharp mint scents that seem very alive in their mintiness — Ombres Portées, Cire Trudon — and this isn't that, exactly, nor does it claim to be. Though the mint scent comes through most clearly in the tea leaves, linen, and Turkish mint blend, it's an interesting, more relaxed mint. Less MINT! and more mint … if you see the distinction (one's all caps).
It's chill, and I'm a fan. The scent doesn't radiate very widely, but I'm not sure if that matters to you. Maybe you like to keep a candle close anyway. Your little candle friend, sitting beside you, glowing. Aw.
How much does it cost, and how long will it last?
It costs $38 and lasts approximately 60 hours. I do wish someone would do an investigation into burn times in which they light every candle I'm interested in and watch it until it disappears to see if the burn time checks out, but I suppose the person to do this would be me and I don't want to risk the fire hazard, or lose the candles.
When should you burn this candle?
It's appropriate for many times — generally when you are in need of relaxation — but I think the best would be when you just got out of a cold shower and are meditating in an effort to take your mind off of the temperature. Light the candle, imagine a cool breeze or an ice cube, breathe in and out, picture a frozen pond, smell the calming mint. I bet that would be nice. Ahh. I feel cooler already, though I must admit I am currently sitting in air-conditioning.
Who should buy this candle?
Your friend who is always talking about how it's tooooo hottttttttttttttttt, or you, if that's you.
If you buy something through our links, New York may earn an affiliate commission.