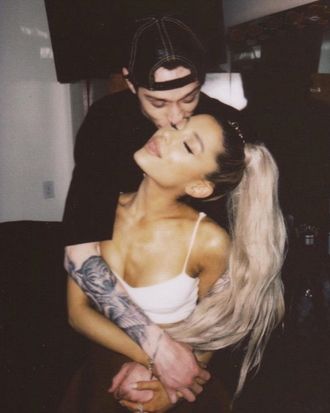 Pete Davidson and Ariana Grande.
Photo: arianagrande/instagram
By now, we all know that Pete Davidson — yes, he of Big Dick Energy — proposed to Ariana Grande after only a few weeks of dating. But in a new interview with GQ, the Saturday Night Live comedian, 24, reveals that he actually told Grande, 25, he wanted to marry her the day they met.
"The day I met her, I was like, 'Hey, I'll marry you tomorrow,'" Davidson told GQ. "She was calling my bluff. I sent her a picture [of engagement rings]. I was like, 'Do you like any of these?' She was like, 'Those are my favorite ones,' and I was like, 'Sick.'"
It's unclear whether the pictures Davidson sent Grande were used as inspiration for the custom $93,000 diamond ring he eventually presented her with (after a month of officially dating, naturally). But we are aware that he purchased the ring back in May — at the start of their whirlwind relationship. Also, Davidson was technically still with his cool-girl now-ex-girlfriend Cazzie David when he and Grande first met — though they were apparently on a "break" at the time — so it would appear that he did, in fact, decide he wanted to marry Grande while still somewhat attached elsewhere.
But lest you worry about what the shorter-than-you-thought timeline of their engagement means for the fate of the couple — whose celebrity-couple nickname is either "Grandson" or "Pariana," depending on who you ask — Davidson told GQ that the wedding is "definitely going to happen, for sure."
Read the full interview here.