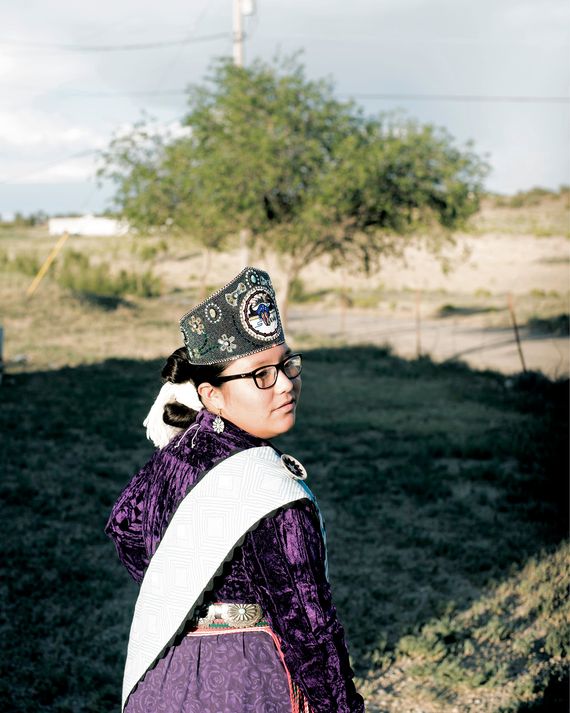 Taya Tom, 13, lives in Nakabito, New Mexico, which is part of the Navajo Nation.
Photo: Morgan Hornsby
Since 1952, the end of the summer has marked the start of pageant season for members of the Navajo Nation, the largest Native American reservation in the United States, which covers more than 27,600 miles across Arizona, New Mexico, and Utah. Among the Navajo people there is what's known as a "royal class": women, girls, and even babies less than a year old, who compete in traditional pageants held each summer throughout the reservation.
These women are the subject of a photo series called "Royals" by photographer Morgan Hornsby, a photojournalism student at Western Kentucky University. She photographed more than a dozen Navajo women of all ages at three pageants last summer, from toddlers competing in baby pageants to female elders who mentor teenagers and young girls. The current season began earlier this month and will last through September.
At a typical pageant, each contestant is expected to display both modern and traditional Navajo talents, dress in traditional clothing (such as pleated velvet and cotton shirts, shawls, moccasins, and conchos belts), and showcase essential Navajo skills such as speaking Diné (the Navajo language), cooking traditional food like frybread or mutton stew, and identifying plants by name. Younger women compete in local pageants before vying for the title of Miss Teen Navajo Nation, and when they are older, for the title of Miss Navajo Nation in the tribe's capital, Window Rock, Arizona. There, among traditional pageant requirements, contestants in their late teens must also butcher a sheep for a panel of elders. The Miss Navajo Nation winner can then compete with Native American women across the U.S. in the national Miss Inter-Tribal Indian Ceremonial pageant. The 2017–2018 national winner, Zunneh-bah A. Martin, is featured in "Royals."
Hornsby decided to photograph the pageants after attending the Navajo Nation's first-ever LGBTQ Pride Celebration in Window Rock, where she met and photographed the 2017–2018 Miss Teen Navajo Nation winner, Aysha Catron-Tsosie. After that, she continued to attend pageants. "A lot of the girls, even though they go to school on reservations, said they would go to school and get bullied for dressing traditionally," Hornsby says. "I hope that my photos show Navajo culture as something that is vibrant with these women."
"Royals" features several photos of 13-year-old pageant competitor Taya Tom, who lives in Nakabito, New Mexico, and holds the local title of Black Creek Gourd Society Princess. Photos show Tom getting ready for a pageant with her mother, who wraps Tom's hair in a traditional tie made from the wool of a sheep that the family butchered together. Her talents include baking blue cornbread from scratch and speaking sign language. She says her biggest challenge is speaking Diné, which is considered an endangered language, though it has experienced a modest increase in recent years with younger generations making a concerted effort to learn it.
Tom was 4 ½ years old when she entered her first Navajo princess pageant and won. "I started to learn more," she says, noting she wasn't born into a traditional Navajo household. She said she hopes to hold the title of Miss Navajo Nation one day and represent her tribe at the Miss Inter-Tribal Indian Ceremonial pageant. "I've learned to respect everything about [our culture], from Mother Earth to the people, to all of the natural things that we see. I hope [people looking at the photos] understand that they should never be afraid of who they are and who they represent. No matter what your religion is, always believe in what you are. Your skin color, your race, and what you speak. Never be ashamed of who you are."
See Hornsby's photo series "Royals" in full below.