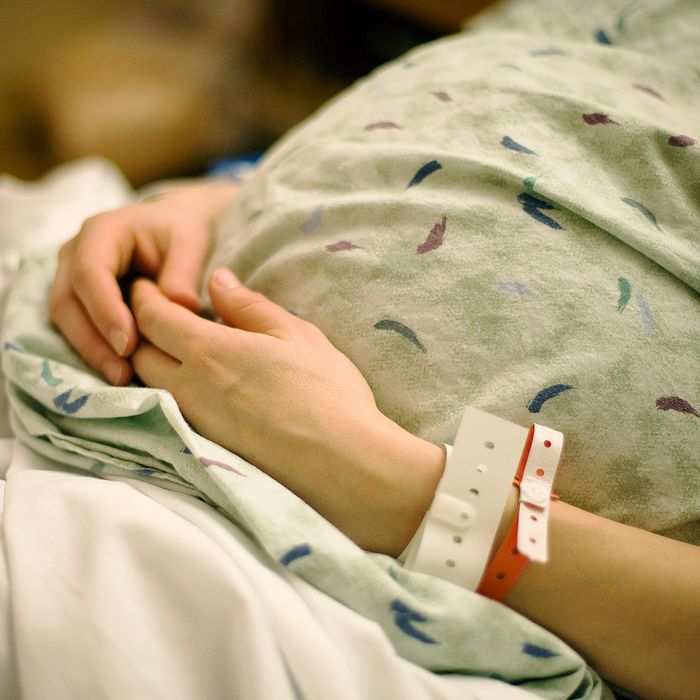 Photo: John Paul Armstrong/Getty Images
A California mother is suing the medical center where she gave birth last fall for medical malpractice and emotional distress, claiming she was forced to undergo an emergency cesarean section without any anesthesia, the Los Angeles Times reports.
According to the suit, which was filed last month, 25-year-old Delphina Mota and her fiancé, Paul Iheanachor, showed up at the Tri-City Medical Center in Oceanside, California, on the morning of November 15. Mota was already overdue, and said she expected to have the doctors induce labor. But the next morning, when her doctor Sandra Lopez couldn't pick up the baby's heartbeat on the monitor, she ordered an emergency C-section, and Mota was rushed to the operating room. Though the anesthesiologist was paged multiple times, he didn't answer the call; eventually, Lopez told the nurses to strap Mota down.
By the time the anesthesiologist finally walked into the room, the suit states, Mota's arms and legs had already been strapped down to the operating table and, with Mota completely conscious, Lopez had cut her open, slicing through her abdomen to access her uterus.
The complaint says that Mota "was crying and screaming at the top of her lungs, that she could feel everything that was happening and was also pleading for help, and for defendants to stop cutting her," until eventually she passed out.
In a statement, a spokesperson for the medical center said, "Patient safety and quality are the utmost priorities for Tri-City Medical Center and all of our partners. Tri-City Healthcare District cannot comment further on pending litigation."
Mota and Iheanachor's daughter, Cali, is just under seven months old, and Iheanachor says she is "perfect."
"I understand why they did it," Mota told the L.A. Times. "But this is a hospital … There should have been measures in place."
The couple is asking Tri-City for $5.75 million in damages.