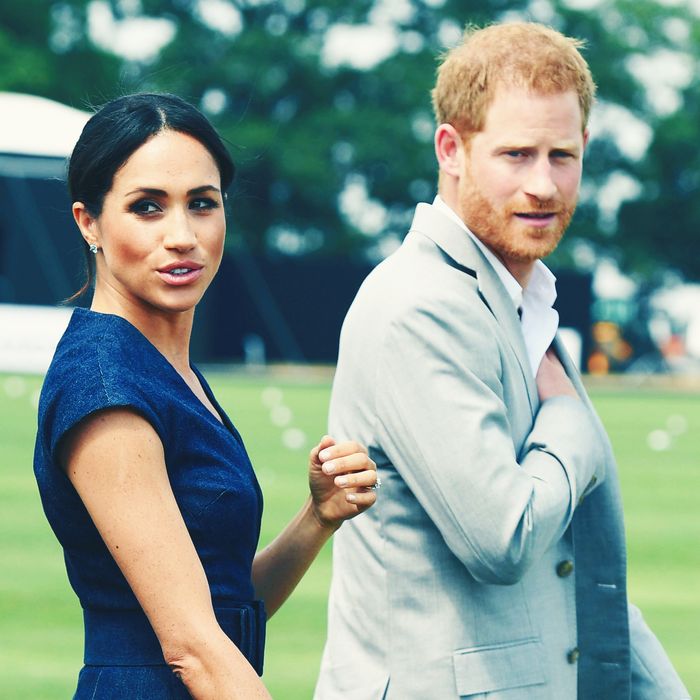 Meghan Markle and Prince Harry.
Photo: Karwai Tang/WireImage
Over the past several months, Meghan Markle's family drama — from the antics of her chatty half-sister Samantha to non-stop interviews with her dad Thomas Sr. — has played out in the press. But in recent weeks, the coverage has turned even more dark and upsetting. Now, the media "hysteria" surrounding his new wife has reportedly reached a breaking point for Prince Harry, and the royal couple is said to be taking a momentary step back from public life as a result.
Vanity Fair's Katie Nicholl reports that Prince Harry and Meghan Markle won't be appearing in any official royal events until at least September, taking a much-needed break for the month of August. During that time, they will attend a wedding (on Meghan's birthday) and visit the queen at her Balmoral estate, but otherwise they just reportedly plan on hanging out at their country cottage in the Cotswalds — alone.
"It's very clear they want to be private and left alone," a local of the town told Vanity Fair. "The property is in the middle of woodland and you wouldn't know it was there. It is very remote which is why they like it. It's like a fortress. There's a huge security presence, you can't get close."
Nicholl reports that privacy is just what Prince Harry and Meghan are looking for. A source told Vanity Fair, "He worries there is too much hysteria around Meghan and he wants to row back a bit." Daily Express' royal correspondent Richard Palmer also recently tweeted that the press hasn't been given as much access to Meghan lately.
While we'll certainly miss Prince Harry and Meghan during their break, we understand why they want some time to themselves.