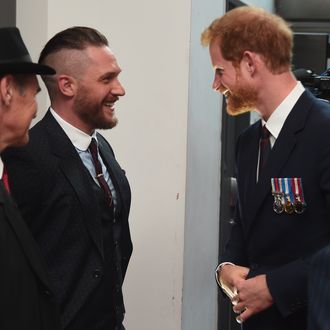 Tom Hardy and Prince Harry at the premier of
The Revenant
.
Photo: Eamonn M. McCormack/Getty Images
Tom Hardy and his shiny bald head were in attendance at Prince Harry and Meghan Markle's wedding earlier in the year — but it was not the first time the British actor and the British royal have been involved in each other's lives. Hardy has been an ambassador for the prince's charity the Prince Trust since 2010.
It appears their friendship is not a casual one. In a new interview with Esquire, Hardy wouldn't say too much about their relationship, just that it was "deeply private" and that the prince was a "legend." Sweet.
For now, we're left to ponder about what Tom Hardy and Prince Harry do when they hang out away from the private eye. Ride horses? Fly planes? Make bets and get tattoos? My imagination is running wild. Hopefully Hardy will be as open about this royal friendship as he was about his "tighty-whitey budgie smugglers."