Rachelle Vinberg got seriously credit-carded for the first time when she was almost 14. This was in 2012, at the Bethpage Skate Park on Long Island. She'd only been skating a couple years at that point.
To get credit-carded is to land with the board vertically between your legs: The board is the credit card; your crotch is the chip reader. This can yield a horrifying injury, the kind that triggers an involuntarily full-body cringe to observe, and a video of the aftermath of Rachelle's fall ended up on Hall of Meat, an Instagram account run by Thrasher and devoted to terrible slams. The neighborhood boys Vinberg skated with at the time memorialized the incident in chalk drawings of Rachelle with blood gushing from between her legs. Which might not sound like friendly behavior – but nevertheless, she says, "They were cool." There was another day when she got her period at the park and was caught unprepared, without cash. These middle-school boys, her friends, went to Rite Aid and bought her supplies.
Vinberg's credit-carding also inspired the beginning of the new movie Skate Kitchen, directed by Crystal Moselle. Moselle's first film was The Wolfpack, a documentary about brothers growing up in New York with a father who rarely let them outside; they knew the world only through movies, which they reenacted in their 16th-floor apartment. Moselle's new subjects — New York's teen skaters, and in particular teen girl skaters — have resourcefulness and a tight group bond in common with the Wolfpack boys. The movie sometimes feels like a photonegative version of Kids: wholesome in the manner of Rookie magazine, genuinely positive, and, while not naïve, innocent. Skate Kitchen is Moselle's first feature, and she based the movie's story on her young stars' own lives. Vinberg was her closest collaborator and plays the lead role, Camille.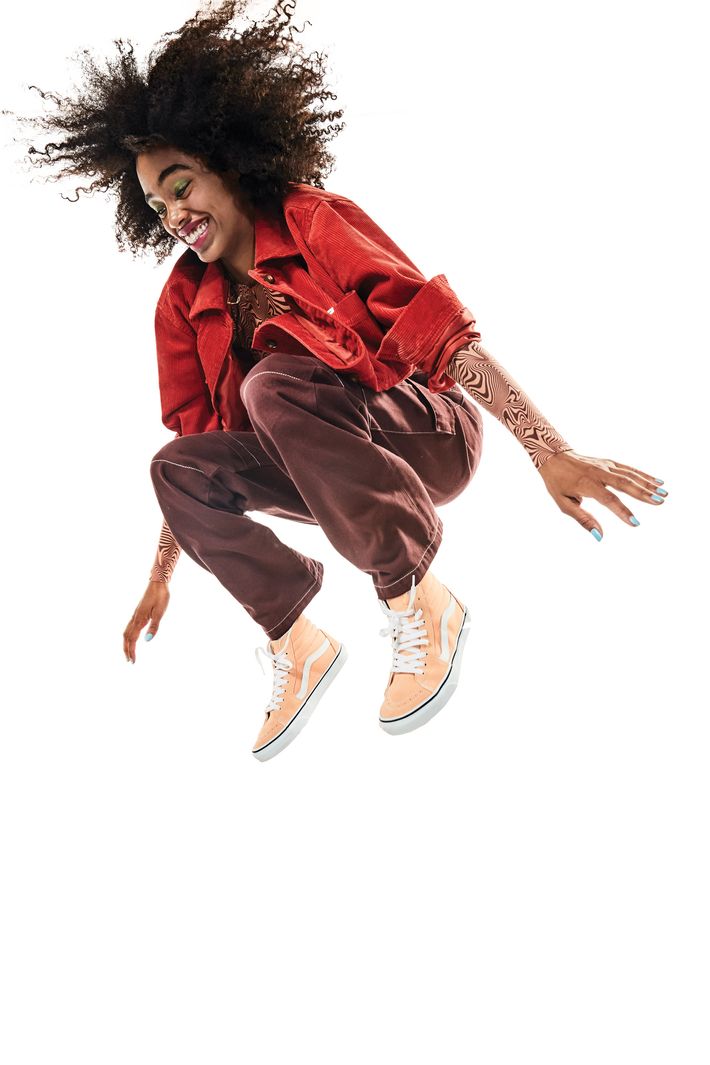 In the opening scene we see Camille from the waist down, rolling around a Long Island skate park. She's trying to kickflip down a set of stairs and she's not landing it. She decides to give it one last try. And then she falls — credit-carded. Blood streams down her legs.
"I think she has her period," some kid says.
"It's not my period," says Camille. She grits her teeth through stitches alone in the ER, then waddles home wearing hospital scrub pants, bloody shorts in a bag, unable to even push along on her board.
The injury kicks the plot into motion. In the grand tradition of anti-fun onscreen parents, Camille's mom extracts a promise from her daughter: No more skateboarding. (Maybe you won't be able to have kids next time, the mom warns — in Spanish, a nod to Vinberg's own mother, who's Colombian.) Camille agrees, but soon she's sneaking into the city to hang out with the girls of Skate Kitchen: Ruby, a photographer, who doesn't take her hand off her camera; Indigo, with bleached eyebrows and insight into boys; Kurt, introduced in the midst of bragging about the girl who just fingered her; and Janay, sensitive and welcoming, with a nice dad who cooks everyone dinner. Camille stays with Janay after running away from her mom's house, the coming-of-age journey that gives the movie its shape.
Vinberg and Camille share clear-framed glasses and an earnest, deliberate cadence; they both have divorced parents and Long Island childhoods. Growing up, Vinberg played soccer, basketball, lacrosse — and football, even though her dad (she lived with him then) wouldn't let her at first. She'd tag along at her older brother's practices.
"I always begged my dad, Please let me play," she told me. "He was like, No, there's no girls who play with this sport." He felt bad but didn't see any way around this fact. Then one day at a practice, she spotted her opening: "I saw a girl and I'm like, Dad, that's a girl. And he's like – Oh shoot." After that he came around. She was young at the time, 7 or 8, and once when they were leaving a game she remembers a dad from the other team walking by, looking at her, and laughing. Not my daughter, he said. Vinberg's father was furious. Well, she's my daughter, he said. "He looked at me and was like, You can do whatever you want," she said. "I think that's why I started skating and not really caring, because I was kind of used to being the only girl on the team."
An older cousin taught her to ollie the summer before she turned 12. She taught herself more tricks watching YouTube and started skating with the boys in her neighborhood. Her real-life mom never stopped her from skating, but she did tend to give her Uggs and North Face jackets for Christmas, even though she always asked for boards. A North Face jacket was something like $150 — I could get three decks with that, Vinberg would think, then feel guilty, because her mom had spent so much money. In her head, "everything could be converted into boards."
She didn't really know any girl skaters until she found Nina Moran (brash and gregarious, who plays Kurt) on YouTube. They started commenting on each other's videos, then talking on Facebook, and then decided to meet up at a girls skate event at House of Vans. Vinberg was 15. Her mom drove her into Brooklyn and met Moran's mom. She decided it was okay for Vinberg to have sleepovers in the city.
It was on one of those visits to New York a few years later that Vinberg and Moran met Moselle. The director overheard them talking — Moran was telling a loud story — and, intrigued by their skateboards and their style, approached. Vinberg remembers being somehow unsurprised. Maybe, she thinks now, this is because when she was little and her dad worked as a steamfitter in the city, he'd tell her stories about how in New York, you could get spotted on the street and discovered — she always wanted to go with him so that could happen to her. But also, this was not the first time that she and Moran had been scouted. The year before, a casting director from Gotham, the Batman crime drama, had spotted them skating and asked them to send some photos, which they did not do. (Another time, Vinberg was street-cast in a Samsung commercial.) Teenage girls with skateboards possess an image that inspires ravenous yearning among adults in the image business.
Are there more of you? Moselle asked the pair. The answer: Yes and no. Vinberg and Moran were mostly a twosome, but they'd both skated with Kabrina Adams (who plays Ruby in the film), and Nina knew a few other girls — Dede Lovelace, who plays Janay, Ajani Russell, who plays Indigo, and twins Jules and Brenn Lorenzo, in smaller roles — who were all just starting to skate. The group came together to make That One Day, a short film Moselle made for Miu Miu. It's a capsule version of the story told in Skate Kitchen, with Vinberg as the outsider who joins an idyllic girl crew. "Skate Kitchen" was Vinberg's name, a retort to dismissive online comments about where female skaters belong.
In a Q&A that followed the movie's BAM screening in June, Moselle explained that telling the Skate Kitchen story as a feature had been a matter of finding her courage as a filmmaker. The girls quickly got comfortable with Moselle; they'd tell her about their problems and sleep on her huge couch. Moselle would create situations based on their stories, film their interactions, and edit the material with a documentarian's eye. The demands of movie-length storytelling also meant introducing a boy to, as Moselle put it, "mess things up." This boy arrives in the person of Jaden Smith. At BAM, Smith said he did the movie because it meant a chance to skate with Vinberg. Otherwise, he told the audience, "I was too scared to skate with Rachelle, because she's so much better than me."
Conflict arises in Skate Kitchen when Camille starts skating with boys, but for Vinberg this choice is less fraught. The girls don't always skate together; many of them prefer skate parks, Vinberg says, and in general she likes skating street. The first time I met Vinberg, in June, she was with her boyfriend, Toby, and her friend Tyler, whom she knows from Tompkins Square Park. "He has a doppelgänger. You might be able to guess who it is," Vinberg said. Tyler's doppelgänger is Timothée Chalamet. If you've been looking at Vinberg's Instagram and wondering: No, that's not Timothée Chalamet; that's Tyler. Toby also has a doppelgänger: It's Rachelle. The two have matching glasses, long hair, and thick eyebrows, and sometimes on Instagram people ask whether he's her boyfriend or her brother. Toby goes to college in Colorado and was only in town for the weekend; that morning he'd come along on a photo shoot for GIFs promoting the movie. All these people — Rachelle and her friends in the movie — were so big on Instagram, Toby told me, but they were normal in person, so that was nice.
That afternoon we went to Blue Park in Williamsburg, where we met up with CJ Ortiz, a friend who's also in the movie. He plays an asshole, Vinberg said, but he's not one in real life. When Toby was out of earshot, CJ congratulated her. "You did good, Rachelle. He's a cutie."  In between turns on a low ramp, Vinberg sneaked drags on one of CJ's friend's Juuls — Toby wouldn't approve, she explained.
Time passed in idle abundance. Activities emerged guided by whim and by a constantly proclaimed need to charge phones. (I'm at one percent, someone would announce every so often.) After they'd all filmed a few tricks on the ramp, dragged a picnic table around, and ollied off that, they decided to go to a thrift store — they wanted to find Toby some penny loafers to match ones Rachelle had. "Let's get some shoes," they began chanting on the walk. "Let's get some shoes." (They'd all been in approximately second grade when the video "Shoes"—"OG YouTube!"— came out.) At L Train Vintage, Toby found loafers that "kind of fit" and Vinberg found loose blue-green jeans that she changed into and wore out of the store. The jeans cost $25, but everyone agreed they were worth it. Everyone was hungry and tired, so we went to a diner; CJ had a beer but no one else did.
Rachelle ate a peanut butter and banana sandwich and discussed how good her friend Kyota was getting. She wondered what music she should use when she edited their clips from the park. That night, she posted a video of the day's skating, set to the theme song from the PBS children's show Caillou.
Vinberg got credit-carded the second time in March 2018. She was skating over a trash can back on Long Island. This was a couple months after Sundance, where Skate Kitchen premiered to an enthusiastic reception and Moselle played big sister/cool mom to her brood of teenage stars.
The last time the injury took two weeks to heal; this time it took two months — "15 stitches down there," Vinberg reported. She asked the doctor who sewed her up whether credit-carding was worse for guys or for girls. "She was like, Well, for girls it bleeds a lot more because the skin is super thin and it's right near the bone." The edge of a skateboard hits you between the legs, and "it just opens," she explained. "It just tears." But then, the doctor told her, "It's really forgiving, because people have babies and it's supposed to rip … It doesn't even leave scars, which is crazy."
Still, the injury had gotten in her head.  "As I'm getting older I'm getting more conscious about my body and getting hurt," she said. "You're not supposed to think about it too much. You think about it and that's when it happens."
When I saw Vinberg at an Adidas party in July, she was asking Nora Vasconcellos, a pro, for advice. Vasconcellos was commiserating; she'd recently hit her head. Adidas had asked Vinberg and others to take Polaroid photos of their lives — these were framed in groups above each person's worn Adidas sneakers, to a somewhat memorial-shrine effect. Beneath Vinberg's pictures of Toby and Tyler and Dede and herself, a label identified her as "Rachelle Vinberg, Skateboarder/Actress."
Skateboarder/Actress is a reasonable description of her professional identity at the moment, but "I don't know what I want to do," she told me later. "That's one thing I've been kind of struggling with the past couple months." She's not sure whether she wants to keep acting — auditions and self-taping stress her out. Moselle told me she thinks Vinberg should direct. At Brooklyn College, where she's completed two years, she's been studying screenwriting, but she's taking next semester off. Her 20th birthday is in August. "I don't want it," she said. "I'm scared of getting old. I am." Whatever she decides to pursue, "it has to give me the same feeling that skating used to give me. That feeling of really wanting to do it for whatever reason — the impulse feeling."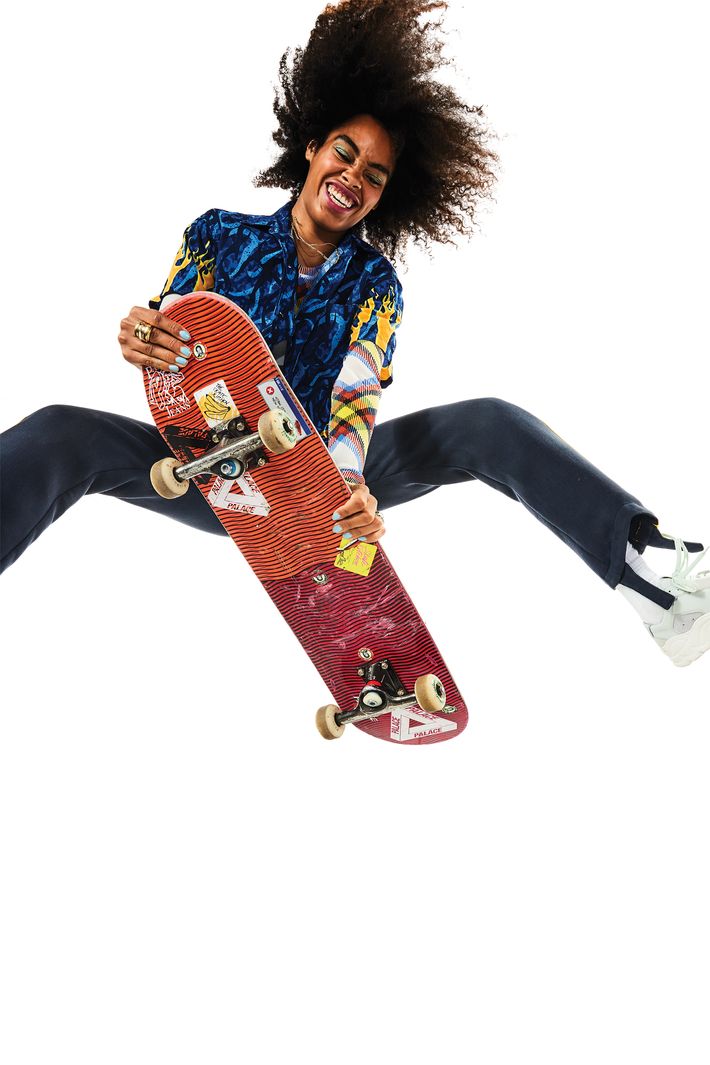 Skating is different now that she knows how many people are watching her. She has 188,000 followers on Instagram, more than twice as many as the Skate Kitchen group account, and when people recognize her at a skate park, she feels like they expect her to be better than she is. "It's just weird because there's so many other girl skaters who are better than me," she said. "I have more followers than some of the pros and I don't know why." She said Moselle advises her not to ask. Vinberg feels weird when girls come up and say she's their favorite skater: "I shouldn't be," she thinks. "I feel kind of fake sometimes talking about it" — about skating — "and then not actually going as hard as I used to."
But when Vinberg skates, she's fluid and clean, and she pushes with long, sure strokes. The tricks she does aren't the biggest or hardest, but they appear in her path like she's following a train of thought. She doesn't look nervous or uncertain; she just looks like she's skating.
Skating means seeing a world that offers itself up to you: down each set of stairs, potential pleasure; along each low ledge, a chance for style. It means ignoring all the ways that world will cause you pain. This is an illusion some people can sustain longer into adulthood than others. But it can also be conjured vicariously, and in Skate Kitchen's best moments — sometimes when its characters are just messing around or messing up — this is what Vinberg and her friends manage onscreen. It feels like extra oxygen in your blood, like hitting every light without trying, like a space just wide enough to slip through.
Vinberg told me her favorite part of the movie is the end, when the girls all skate in the street together. "When I'm older, thinking about being young," she said, "that's what I'll remember."