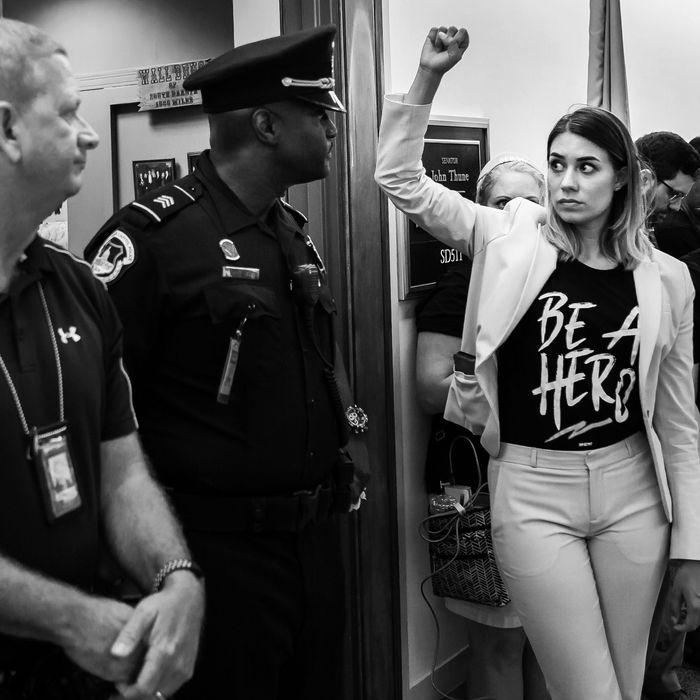 Brett Kavanaugh protest.
Photo: Pacific Press/LightRocket via Getty Images
On August 26, people in cities across the country will take to the street to protest Donald Trump's nomination of Brett Kavanaugh to the Supreme Court, where the the judge's anti-abortion and anti-LGBTQ stances could endanger over half the U.S. population for decades.
In response to Trump's conservative pick, whose confirmation hearings are scheduled to begin on September 4, NARAL, MoveOn.org, and number of other progressive grassroots groups have organized Unite for Justice, a nationwide day of action that will see at least one demonstration in all 50 states. Here's what you need to know to join.
When are the protests?
All protests that are part of Unite for Justice will take place on Sunday, August 26. However, the rest of the details vary — some demonstrations are rallies followed by hour-long marches; others are all-day events that feature other ways to make your voice heard, such as stations where you can write postcards to your elected officials.
New York City's main event, for example, will go from 12 to 2 p.m. at Foley Square; Los Angeles's will start at City Hall at 10 a.m. and end at Pershing Square around 1 p.m. To find the closest demonstration to you, simply visit Unite for Justice's website and enter your zip code.
What are the organizers' demands?
Unite for Justice is encouraging all Americans to "stand united in commitment to our freedom and our future" to "demand that the U.S. Senate stop Judge Brett Kavanaugh's nomination for a lifelong appointment to the Supreme Court."
Their mission statement continues: "Senators in all fifty states must listen to their constituents, do their jobs to uphold the will of the people, protect the soul of our country and Constitution, and block this nomination. United, we will fight to ensure Brett Kavanaugh never gets confirmed by the Senate."
What if there isn't a protest close to me?
If you are willing to host an event, you can register here. As the website stresses, your potential event could be anything from a press conference to a petition delivery to a potluck.
What if I can't make it to the main protest on Sunday?
If you're unable to physically attend the event, you can donate to the People's Defense, the coalition of grassroots organizations behind the Unite for Justice event that are fighting to block Kavanaugh's nomination.
The National Women's Law Center is also putting on a number of related rallies and digital campaigns to occur the week leading up to the Unite for Justice protests.
Where: The Supreme Court of the United States
When: August 22, 12:30 p.m. to 1:30 p.m.
Everyone from U.S. Senator Kirsten Gillibrand to Lilly Ledbetter to Elissa McBride of trade union AFSCME will speak at a Working Women Will #StopKavanaugh Rally, where they will outline the dangers that Kavanaugh would pose to working women.
Where: N/A
When: August 23
Groups like the National Asian Pacific American Women's Forum and URGE: Unite for Reproductive & Gender Equity will speak up online and in their communities about Kavanaugh's threat to reproductive rights for the Fight for Reproductive Justice.
Where: Online
When: August 23
Organizations of faith opposed to Kavanaugh's politics, such as The National Council for Jewish Women, will launch the digital campaign Women of Faith Speak Out to #StopKavanaugh.
Where: In schools
When: August 24
Starting Friday, students and educators will make their voices heard by writing letters and conducting teach-ins as part of an ongoing civic engagement campaign to stop Kavanaugh from being confirmed.
Are there any other ways I can protest Kavanaugh's nomination?
CREDO Action, which has a network of over 5 million activists, has launched a page on their website that outlines all the threats that Kavanaugh poses to marginalized communities, and lists ways to contact elected representatives and demand that the judge's nomination must be blocked. To take action right now, there are a number of petitions that you can sign on the website here.
Planned Parenthood has also set up the website dearsenators.org, where you can send a written message to senators, demanding why they must fight for reproductive rights and reject Kavanaugh's nomination.