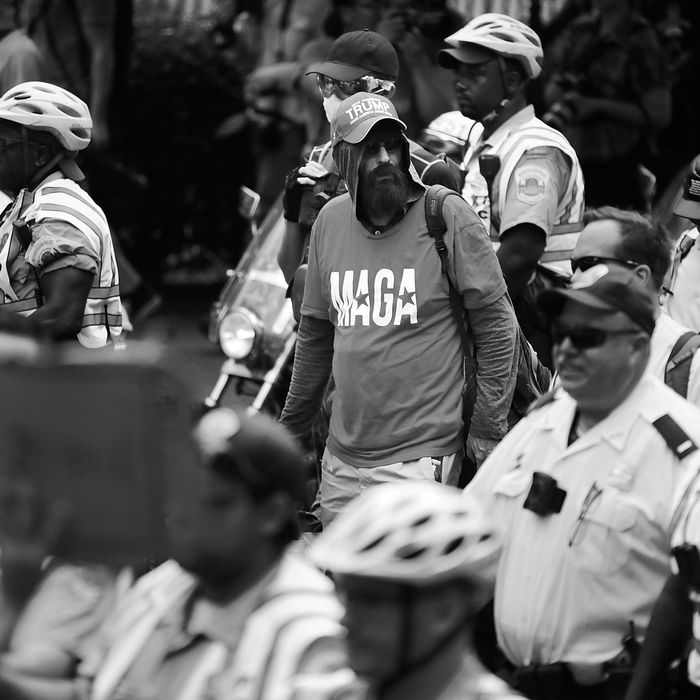 Unite The Right rally in Washington D.C.
Photo: Chip Somodevilla/Getty Images
The second coming of the white nationalist Unite the Right rally began on Sunday in Washington, D.C. Hundreds of police officers lined the streets, and counterprotesters organized themselves around perimeters set up by the city. While Jason Kessler, who has functioned as the face of the organization, predicted 100 to 400 people participating in the rally, only about 50 people seemed to show up.
Reporters covering the rally shared photos of sparse crowds of Unite the Right attendees, while crowd size of counterprotesters appeared to be three or four times larger at any given time. The two groups were intentionally kept apart. "When they are in the same area at the same time, it leads to violent confrontations. Our goal is to prevent that from happening," Metropolitan Police Department Chief Peter Newsham told the Washington Post.
Videos posted to Twitter show counterprotesters following the Unite the Right procession yelling, ripping up the Confederate flag and wiping their shoes on it, and rows of police officers separating the white nationalists from groups of anti-fascist organizers yelling "punch Nazis in the face."
The counterprotest was organized under Shut It Down D.C, and comprised a wide range of political groups. It is estimated that thousands of people showed up to participate. Of the 50 people who did participate in Unite the Right, most kept their faces partially or entirely obscured.
When Kessler spoke at the rally, he said that the low turnout was partially caused by infighting within the white supremacist community. By the time they arrived at their destination, only about 20 rally attendees remained, according to NBC News.