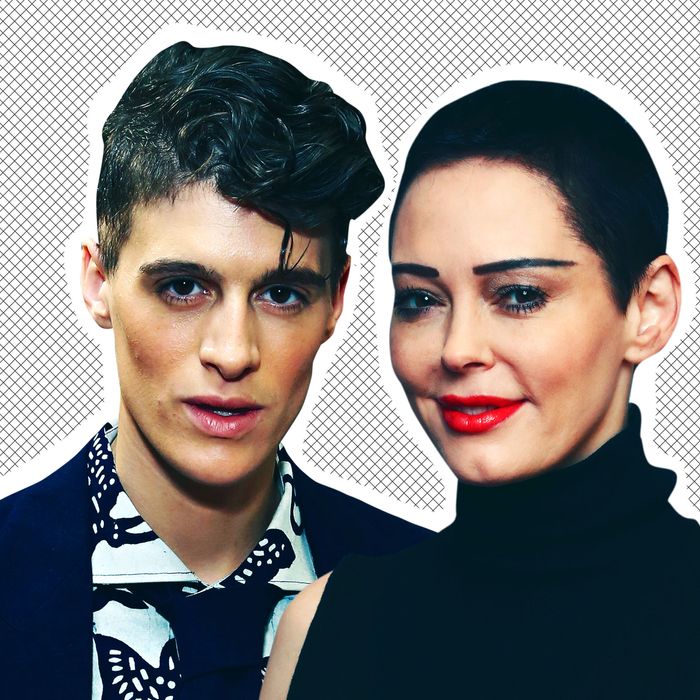 Rain Dove and Rose McGowan.
Photo: Getty Images
On Monday night, Rose McGowan released a statement about the allegations against Asia Argento and her statement implicated yet another person's involvement in an increasingly messy and complicated story. McGowan revealed that (recently leaked) text messages , in which Argento says that she did in fact have sex with Jimmy Bennett, came from the model Rain Dove, whom McGowan is currently dating. So who is Dove? And what's their relationship to this story? Here's what to know.
What does Rain Dove do?
Dove has a well established career as a gender non-conforming model. They do not have preferred gender pronouns, but we're referring to Dove as "they/them" as they were used in McGowan's statement. Dove has worked on campaigns for both men and women's clothing.
Dove has done multiple runway shows, presenting as both male and female, including Boyswear and Malan Breton. Before booking their first modeling job, Dove received a bachelor's degree in genetic engineering from U.C.-Berkeley and was working as a firefighter.
Dove also is a vocal advocate for the LGBTQ community, and frequently discuss their own outlook on gender that they "don't believe in the limitations of 'gender' labels."
Dove has also supported the #MeToo movement. In a tweet posted on August 22, they wrote that no one gets special treatment — which could possibly refer to Asia Argento.
What's Dove's relationship to Rose McGowan?
In Monday's statement, McGowan confirmed that Dove is her partner, though the news of them being together has been circulating for a while. Photographs of the two from earlier this summer show them kissing in New York City.
In early August, Dove tweeted that she was dating someone that other people hated — and McGowan has been criticized in the past for her treatment of the transgender community.
How is Rain embroiled in the Asia Argento story?
According to McGowan, Dove's friendship with Argento deepened after the death of Anthony Bourdain. The three took a trip to Berlin together and Argento and Dove continued to be in touch.
Argento apparently revealed to Dove that she had slept with Jimmy Bennett via text. McGowan also says that Dove turned these texts over to the police.
"Rain also shared that Argento had stated that she'd been receiving unsolicited nudes of Jimmy since he had been 12. Asia mentioned in these texts that she didn't take any action on those images," McGowan wrote.
These are the text messages that would later be released to TMZ, and would directly contradict the statement released by Argento.
Why would Asia confide in Rain?
Although it seems risky that Argento would divulge the details of her relationship with Bennett to a person she'd only recently become close with, McGowan said Dove is regularly consulted on such matters. "I know Rain is a person to whom many high profile entities consult when they are experiencing social pressures," McGowan wrote, "because Rain is good at guiding them through the research confrontation, rehabilitation, and solution process."
McGowan described Dove as someone who felt compelled to share what Argento had confided with the authorities. "While they are a person who is good at keeping a secret for those dedicated to making things right — they are also justice driven," she wrote.