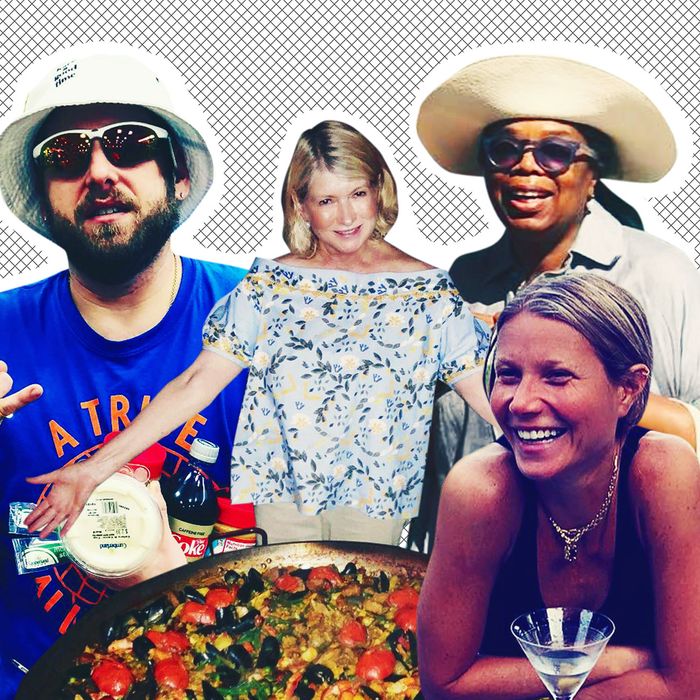 Photo: @jonahhill, @derekblasberg, @marthastewart48, @oprah/Instagram
Summer's hottest trend was logging off Twitter to "disconnect," only to spend double the amount of energy sharing vacation photos on Instagram. And that's fine! We get it. Guilty as charged. Vacation can be lonely sometimes, and isn't the endorphin rush that comes with external validation just another form of self-care? Nobody understands this more than celebrities, whose job is to look like they're having more fun than you. But who had the most fun? Below, we consider all the data before determining which celebrity won Summer 2018.
Was It Lindsay Lohan?
Places visited: Greece and Dubai.
Activities performed: Spon-con for Lawyer.com.
Biggest flex: There's a beach club named after her in Mykonos.
Causes for concern: Her closeness to Tiffany Trump.
Gwyneth Paltrow?
Places visited: East Hampton and Capri, Italy.
Activities performed: Marriage, martinis, the Goop Summit.
Biggest flex: Consciously coupling to Brad Falchuk.
Causes for concern: Not reading the Cut.
Oprah?
Places visited: Croatia and Montenegro.
Activities performed: Testing pizza recipes to get them "just right."
Biggest flex: Look at that harvest bounty!
Causes for concern: Working too hard.
David Geffen?
Places visited: The Atlantic Ocean.
Activities performed: Whatever people do on yachts.
Biggest flex: The caption of every single group photo.
Causes for concern: Did he ever get off the yacht?
Jonah Hill?
Places visited: Soho.
Activities performed: Attending Jonah Hill Day, getting tattoos, dyeing his hair, drinking plenty of water.
Biggest flex: Actually flexing at the gym.
Causes for concern: Are those overalls?
The Queer Eye Cast, But Mostly Antoni?
Places visited: Montreal and Missouri.
Activities performed: Grilling lettuce, assembling crudité platters.
Biggest flex: Going T-shirt-less.
Causes for concern: Drawing vaginas with Justin Theroux.
Tracee Ellis Ross?
Places visited: France.
Activities performed: Swimming, drinking, dancing, sweating, laughing.
Biggest flex: Attending Paris Couture Week.
Causes for concern: Being too plugged-in. (It's fine.)
Pete Davidson?
Places visited: Staten Island.
Activities performed: Loving Ariana Grande in public, bleaching his hair, getting into streetwear.
Biggest flex: Oh, you know.
Causes for concern: Quitting Instagram because his life is "so lit."
Martha Stewart?
Places visited: Maine and East Hampton.
Activities performed: Taking care of Chow Chow puppies, baking, carrying things around in her enormous tote bag.
Biggest flex: Look at the size of that paella!!!
Causes for concern: Spilling red wine on her white blazer.
Andy Cohen?
Places visited: Croatia, Capri, Jerusalem, Sag Harbor.
Activities performed: Boating, gossiping, playing with his dog.
Biggest flex: Seeing Dead & Company with John Mayer.
Causes for concern: Taking the subway like the rest of us.
No, It Was Leonardo DiCaprio
Didn't you know? It's always Leonardo DiCaprio! Our summer king isn't on Instagram, and therefore free to enjoy life as aggressively as he pleases. Besides, he's too busy Citibiking, playing volleyball, and snorkeling with models to pick up a phone. Congratulations, Leo. See you this fall.