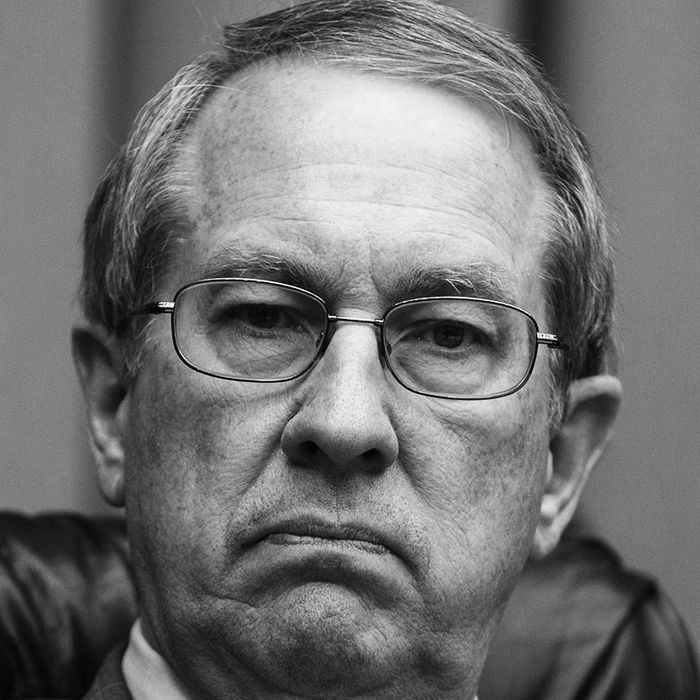 Rep. Bob Goodlatte.
Photo: JOSHUA ROBERTS/Bloomberg via Getty Images
Usually, Twitter.com is a place where people go to hurl insults at celebrities, strangers, and fast-food restaurants. But sometimes it's also a place where they go to own their parents. Like Bobby Goodlatte, a designer and investor, and son of GOP congressman Bob Goodlatte, who recently announced he gave the maximum allowed donation to Jennifer Lewis, the Democrat running for his father's seat representing Virginia's 6th Congressional District.
"damn Bobby ice in those veins," one user tweeted.
"Certainly wasn't an easy decision," the younger Goodlatte replied.
Though Lewis is not campaigning against Goodlatte, who announced last November that he is not running for reelection, she is running against one of his former staffers and political heir apparent, GOP state delegate Ben Cline.
A few hours after his first tweet, Bobby shared a Washington Post story about FBI agent Peter Strzok. Strzok, who had been a senior official into the Russia and Hillary Clinton email investigations, was fired on Monday for a series of anti-Trump texts he had exchanged with an FBI lawyer in 2016. In July, Strzok was grilled for hours by House Republicans, including Representative Goodlatte, who has represented Virginia's 6th District since 1993, and also serves as the Chairman of the House Judiciary Committee. On Monday, Bobby wrote that he was "deeply embarrassed" that the Strzok's career "was ruined by my father's political grandstanding."
A slightly different approach to disagreeing with your politician parents than other large adult children have used.
This post has been updated to reflect that Jennifer Lewis is running against Ben Cline for Goodlatte's congressional seat.