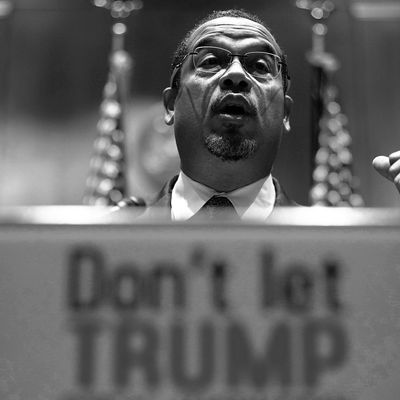 Photo: Alex Wong/Getty Images
Representative Keith Ellison is denying allegations that he was abusive toward his ex-girlfriend, an environmental activist named Karen Monahan, with whom he said he had been in a long-term relationship until 2016. Ellison was the first Muslim person to be elected to the U.S. Congress, and has served as the deputy chairman of the Democratic National Committee since 2017.
Monahan's son alleged in a Facebook post on Saturday that Ellison had sent threatening messages and had been abusive toward his mother, and claimed he had seen a video in which Ellison had violently dragged Monahan out of bed while calling her a "bitch."
In a statement to CBS Minnesota on Sunday, Ellison said that never happened. "This video does not exist because I never behaved in this way, and any characterization otherwise is false."
"I still care deeply for [Monahan's] well-being," Ellison also said.
Monahan is an environmental justice advocate based in Minnesota, and has been mentioned in Ellison's Twitter account numerous times. She regularly tweets about issues pertaining to the #MeToo movement and has tweets from 2017 discussing abusive messages from an unnamed partner. She publicly acknowledged that the tweets were about Ellison after the Facebook post made by her son went viral.
The allegations come in the final days of a hotly contested Democratic primary race for the Minnesota attorney general — Ellison is one of seven candidates running for the seat. He stepped down from his congressional seat in order to run for attorney general. Two of Ellison's opponents, Tom Foley and Debra Hillstrom, both released statements calling on Ellison to address the accusations.
A statement from Foley stated that "serious accusations deserve a serious response," while Hillstrom described the allegations as "troubling" and tweeted that "Domestic Violence is never ok."
MPR News reviewed over 100 text messages between Monahan and Ellison, and its review showed no evidence of the abuse alleged in the Facebook post. MPR reported that much of the conversation dealt with details about the end of their relationship, including coordinating when Monahan would retrieve her belongings from Ellison's house.
Her son told the StarTribune: "I only know what I saw and I know what's true. It was my job to stand up for my mother," he said, adding that he had "no reason to tear down" Rep. Ellison.