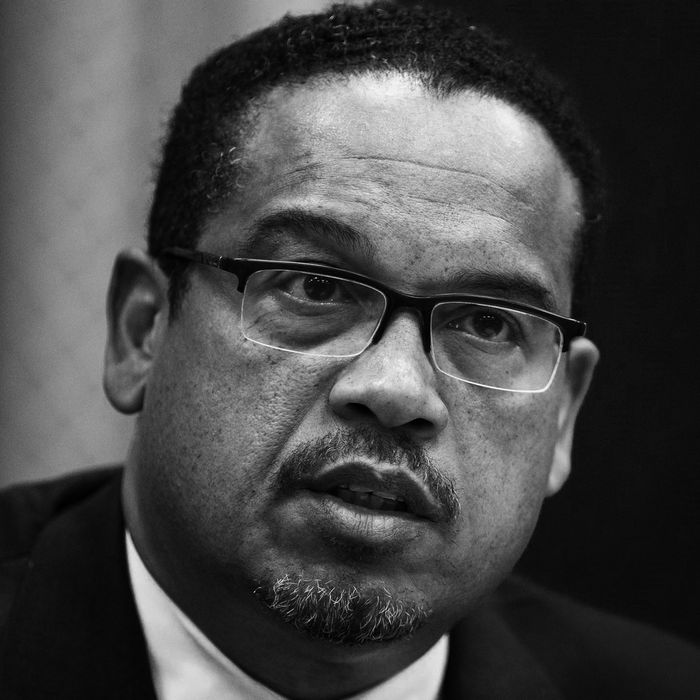 Representative Keith Ellison.
Photo: Anadolu Agency/Getty Images
Over the weekend, Representative Keith Ellison was accused of violently dragging his ex-girlfriend off the bed and cursing at her, prompting the DNC to announce a review into the claims on Tuesday evening. A few hours later, Ellison won the Democratic primary for Minnesota attorney general.
In 2007, Ellison became the first Muslim elected to the U.S. Congress, and since 2017, he has served as the deputy chairman of the Democratic National Committee after losing his chair bid to Tom Perez. A little over two months ago, he announced that he would not seek reelection to a seventh term in Minnesota's Fifth District, and would instead run for attorney general. In a crowded field, Ellison won the Democratic primary last night. As Vox notes, Minnesota has not had a Republican attorney general since 1955, so it's likely that Ellison will prevail.
But there are significant outside factors that could foil Ellison's run — notably, the aforementioned domestic-abuse accusations. This weekend, the son of Ellison's ex-girlfriend Karen Monahan wrote an impassioned Facebook post claiming that he saw a video of Ellison dragging his mother off the bed and swearing at her. For the past two years, Monahan has tweeted about the #MeToo movement and abusive messages that she once received from an unnamed partner, whom she recently said was Ellison.
"It's humiliating, it's traumatizing, for everyone's family involved, and for me," Monahan told MPR of the allegations, which Ellison has denied.
"Karen and I were in a long-term relationship which ended in 2016, and I still care deeply for her well-being," Ellison said in a statement on Sunday. "This video does not exist because I never behaved in this way, and any characterization otherwise is false."
On a brighter note, it appears that Ilhan Omar, a progressive Somali-American candidate who won her Democratic primary last night, will take Ellison's old seat in November.