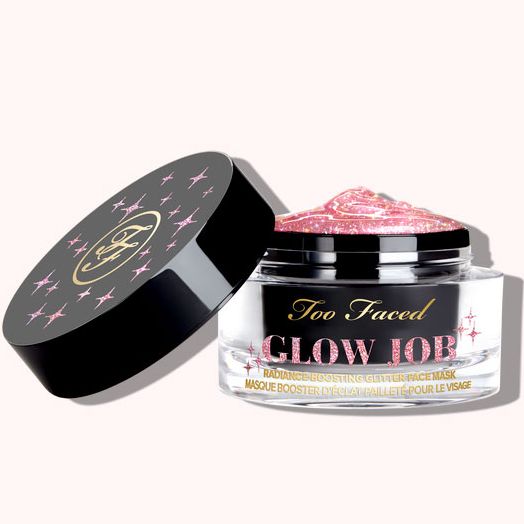 Photo: Courtesy of the Retailer
Glitter may have just taken over fashion, but it's long conquered beauty. Shimmery makeup is nothing new, but trust the company who allegedly created sparkly eye shadow to create a skin-care product made up of the stuff. Too Faced promised that their punnily named Glow Job peel-off mask (no water required), will boost radiance, and is infused with twinkle and real gold. To find out how that translates to real life, the Cut had five women try it out.
Erica Smith, beauty writer
So this was … weird and mostly sticky. I can't tell if this mask did anything other than give me a dull headache (the scent is very sweet). It comes with a spatula for application, so I expected it to get messy but it exceeded my expectations — it stuck to everything. I like that it goes on cool, which I'll take during an extended heat advisory.
Peeling it off once it dried was the most enjoyable part of this whole experience, only because it felt exactly like picking sheets of dried Elmer's glue off my palms like I did back in grade school. Do I want that on my face though? Probably not. Afterward, this left my skin feeling like it needed to be washed again, which was annoying. I could only see myself using this product if I were a sixth-grader. I'd totally bring this to a slumber party where we're all drinking sugar to stay awake.
Daise Bedolla, social media editor
I tend to be wary of exfoliating masks because my skin can be very unpredictable with them. After doing a patch-test on my arm, I didn't feel any of the tingling or burning that usually worries me so I decided to put it on my face. This mask made my skin felt tight but not in the best way.
After peeling it off my face, I used a cotton pad with micellar water to remove the excess product but it took two tries to ensure I wasn't accidentally sparkling like Edward Cullen in Twilight. Even after that, I noticed glitter still stuck to my skin which raised some questions: 1. Is it biodegradable? 2. Will my skin break out if it gets trapped in my pores?
I don't think that I would reach for this mask again, but I definitely had a good laugh trying to take a good photo of my sparkly face. Spoiler alert: I couldn't.
Kelly Conaboy, writer-at-large
Testing this mask is, I think, the most dangerous thing I have ever done for my job. The scent is strongly strawberry and seems like something you should not inhale let alone put on your skin. The consistency is glue-like. While sitting wet on my face, the sparkly goop burned not like a product you know is working but instead like a product that you should possibly remove. I kept it on for the full 30 minutes, however, as was my professional duty. I was pleased to see that it did not seem to negatively affect my face, and peeling it off was fun. I don't think it did much to help, but it at least it did not make my skin worse, thank god.
It seems like the main thing Too Faced hopes for this mask is that people want to take selfies with it on. This stuff is not attractive enough for that. A social-media-friendly product should be opaque enough to cover your entire flesh and only show your eyes and mouth, which are cute. However, this mask makes your flesh look like it's covered in sparkly semen. Maybe that is what you want to look like for your selfies — I don't know and I am not judging — but I can't imagine it's what everyone wants, and I don't think it was a particularly smart product decision. I do like the name, though.
Tara Abell, Vulture news editor
Where do I start with this? The consistency is like Slimer while the scent is the sticky sweetness of a dorm-room cocktail. It reminds me of Sprite, Smirnoff, regrets. And it's very tingly and cold! While trying it, I could not stop laughing.
After the mask dried a whopping 30 minutes later, I was surprised that I was able to get a good long, satisfying peel off — but glitter will be in my eyebrows for days. My skin didn't look any more radiant afterward but it did have a nice soft feel in the morning. That being said, this is the perfect thing to do with your friends when you're having a bad day and want to lie on the couch in your PJs and drink wine. There's something so silly about the whole experience that makes you feel 14 again in the best way possible.
Kathleen Hou, beauty director
The day after trying this mask, I slacked Kelly and we made a lot of jokes about it looking like a fluid byproduct that would be secreted by unicorns. It's viscous, a little cloudy-looking, and it's full of holographic bits of glitter — you get what I am saying here! Aside from all that, it is extremely sticky and smells like chewed up Bubble Yum you would find stuck under a classroom desk. It also made my face burn.
There is a plus though: It is very fun and satisfying to peel off, American Psycho-style. But after all that, I didn't notice much of a difference in my skin post-mask. It didn't look worse but it also didn't look better. I enjoy the fun and playfulness of Too Faced's products, but this one was not my favorite.
If you buy something through our links, New York may earn an affiliate commission.